Keller-Brown Insurance Talks to Students
November 16, 2021
Keller-Brown Insurance Services talked to the Driver's Education classes on Friday, Oct. 15. 
Sarah Brown represented the local Shrewsbury company by coming to talk to the students about the various aspects of insurance. 
"We will cover the 10 things you should know about auto-insurance," Brown said during her lesson.
Driver's Education and Physical Education teacher Joseph Sorice felt it was important to include this lesson in his class, so a professional could inform students about what they most likely would be dealing with in their upcoming years. 
"I think it's important because I think students learn a lot from someone other than their everyday teacher, from a true professional," Sorice said.
This was the first year Sorice had a guest speaker talk to his classes about this topic.
"I think it went really well," Sorice said. "I already asked her to come back in the spring semester and take the kids through the insurance-buying process."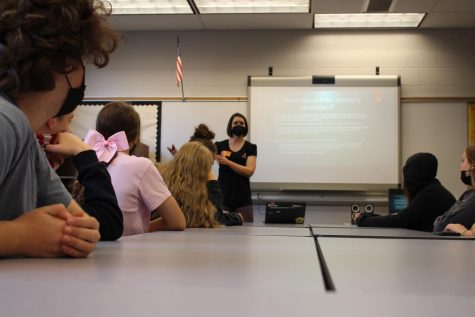 The class has covered various topics so far throughout the course, but students like sophomore Jada Ciletti felt that it was beneficial to talk about insurance, something that is not talked about often at this age. 
"Learning this information was helpful because it lets you know what kind of options you have once you own your first car," Ciletti said. "Also, [it assists in learning] what good opportunities are out there to help you in certain situations such as crashes or repairs needed."
Over the years, the driver's education program has invited several guest speakers not only to teach about driving, but to also talk about the different aspects of owning a car. 
Keep an eye out for another article that will be coming out in the upcoming days about a mock pullover scenario that Sorice, along with the school resource officers, put together for the classes.