Fall Sports Come to a Close
November 9, 2021
As the holiday season approaches, so does the end of fall sports; for seniors, this will conclude their athletic career. 
Susquehannock has had an overwhelmingly successful season in nearly every sport, but some stand-outs include golf (29-1), tennis (14-3), boys soccer (12-3-2), field hockey (16-5-1) and girls cross country (15-5), according to athletic director Brad Keeney. 
"You [look at] volleyball…and as a very young team, they had some good wins," Keeney said. "Football is flying high right now…and they have four freshmen out on the field. Everybody is kicking butt this year, and I couldn't be more proud."
Senior Sabreena Fahringer, a captain for the cross country team, is grateful for such a great season and looks forward to even more opportunities to compete.
"We will compete in districts and states in the coming weeks…which will [be in] in Hershey [on Nov. 6]," Fahringer said. " I also think that our success this fall will reflect well this spring during track season, as many of our runners participate in track also."
Another senior athlete, Ashton Murray, is a captain for the boys soccer team; he is appreciative of all the time spent playing his favorite sport with his best friends. 
"We had a lot of depth on the team…a lot of skilled players," Murray said. "We also had a great coach that brought us all together, taught us everything we know, especially how to be a team. I think the bond of the team really allowed us to perform on the field."
While winning is a great achievement for the Warriors, the family atmosphere within each team and involvement of the community continually proves to benefit the student athletes. 
"From the [athletic director] side of things, you hope that you get as many people involved as possible," Keeney said. "As much as this is about sports, it's about community building, teamwork and overcoming adversity. It's an extension of the classroom. It's like a real life simulator."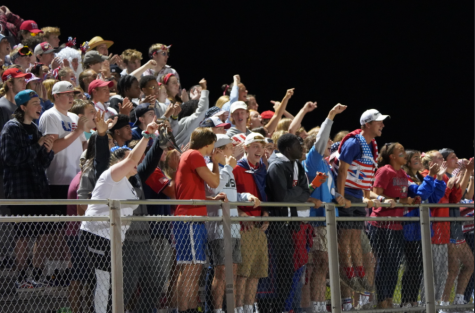 Athletics give students the opportunity to learn more about themselves and their personality beyond academics.
"I've been playing [soccer] for more than 10 years," Murray said. "[Playing] helped me to learn that I'm a natural leader on and off the field."
Fahringer gained a similar perspective, but also learned some lessons during her time running cross country. 
"I have learned how to push myself both mentally and physically," Fahringer said. " [Also], to always give your best effort, because even though you might be struggling, it will be worth it in the end."
Strong mindsets like these help establish a solid foundation for younger athletes on the team who will continue the legacy of the graduating seniors as well as play on other teams. 
"I want to win, of course," Keeney said. "But I really just want the kids to have fun, reach their highest potential and walk out feeling successful."
Winter sports will begin practicing on Friday, Nov. 19.