Gardening Club Digs its Way into the Year
November 2, 2021
A new club has sprouted on Susquehannock's after-school activity list, causing students to want to get their hands dirty.
The gardening club has been created to encourage students to learn about the process of growth in plants and the maintenance and harvesting of their products as well.
One of the club's advisers, English teacher Amanda Burris, shares the club's large goals to learn the 'food business.'
"The intent of the gardening club is to empower students when it comes to growing their own food, encouraging them to learn about how food is grown and harvested," said Burris.
The gardening club is welcoming everyone who wants to join and learn more about where and how the food they eat daily is produced.
Junior treasurer Anne Jackson has been impacted in a positive light so far this year.
"Although we've only had two meetings, and only one official meeting so far…," said Jackson. "Everyone is so passionate about the club, and they all put in such great effort in contributing new ideas for the club."
Jackson is always looking forward to the next meeting as she continues to express her passion with her peers in making the environment better.
The club wants to grow many different types of vegetables, herbs, fruits and flowers as they continue to grow.
Currently, all donated plants that have been received are growing in the Southern Elementary School greenhouse.
The future plans of the club include expanding their operation after the high school's renovation to a more permanent place where they can grow different things each season.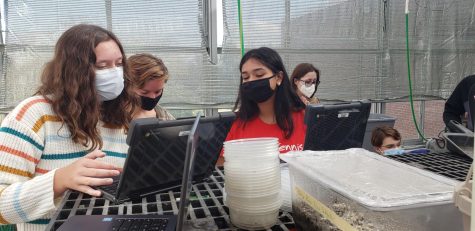 Students who will take questions about the gardening club include freshman president Lesley Hernendez, junior vice president Peyton Savage, junior treasurer Anne Jackson and  freshman secretary Shayla Hamlin.
The gardening club is always open to new members who share the same passion as these peers.
The next meeting will be held on Nov. 2 in the greenhouse at 3 p.m.; the group will gather in the auditorium lobby to walk over together at 2:50 p.m. 
Contact Burris at [email protected] or contact adviser Sara Mooney at [email protected].