Burgess Speaks as 2021's Valedictorian
May 24, 2021
Susquehannock's 2021 Valedictorian is senior Courtney Burgess, a prime example of how far dedication can take you.
"I'm very proud because I worked very hard for this," said Burgess. "I wouldn't consider myself very naturally smart, but I worked really hard, so I'm proud of myself."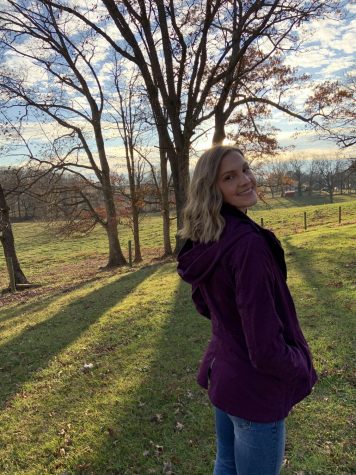 Burgess will continue her academics at Westchester University to major in nursing.
Burgess's teachers, such as Spanish teacher Michaele Rayburn,  see nothing but a bright future for her.
"Courtney is modest, patient, and detail oriented," said Rayburn. "Courtney is so special because she is well rounded with her academics, extra curricular activities, and working at Giant.  Courtney is always positive, happy, and willing to help anyone.
Burgess feels as if she is ready for her future thanks to her experiences at Susquehannock.
"I was able to pick classes that would help me," said Burgess. "I plan to go to nursing school so [I chose] to do more science classes other than things that wouldn't help me that much."
Burgess was involved in many activities, such as being a member of the Warrior  track team and president of both Mini-THON and National Honor Society.
"[These experiences have] definitely helped my experience and [have allowed me to] be involved throughout high school, not just having to go to school and go home everyday," said Burgess.
Mini-THON adviser and Spanish teacher Heather Walker enjoyed working with Burgess in Susquehannock's Mini-THON chapter.
"As a dedicated president of the MiniTHON club, she worked hard to arrange and publicize many events, which raised a lot of money to fund the fight against pediatric cancer," said Walker.
Burgess will be able to deliver a final message of departure to her fellow classmates at graduation. 
"In my speech, I'm going to talk about hard work and keeping the Warrior spirit," said Burgess.
Talking about hard work definitely speaks to Burgess's strengths, according to her mathematics teacher, Kori Eisenhart.
"Courtney has an outstanding work ethic and embraces any challenge she encounters," said Eisenhart. "Her critical thinking and problem solving skills will serve her well in the medical field."
Being Valedictorian is a dream and goal that many students seek to accomplish. 
"I never really thought about it until after freshman year when class rank came out, and I was [ranked highly, realizing that valedictorian was achievable] so I started working for it," said Burgess.
Burgess feels relieved now that graduation, and her future, is just around the corner.