Unified Track Races through Regionals
May 16, 2021
The Unified Track Team competed against Central York on Wednesday, May 5, and as of now, the final scores of the home meet are pending.
Students gave their best efforts against the Central athletes and even achieved personal records, this being their second meet after a win against Dallastown with a final score of 187 to 151 points.
Sophomores Cameron Fullem and Dylan Elliot achieved new personal bests in the mini javelin event, both throwing records of 15 meters, bringing their team one step closer to victory.
The events at the meet consisted of mini-javelin, shot put, the 800-meter race, the 400-meter, the 100-meter dash, long jump and relays.
The home meet was senior night for the team, and students celebrated student trainer Maddie Bateman's senior season.
Bateman admits that joining the team as the trainer was the perfect chance for her to do something that she loved while applying her passion for helping others.
"I have always had a love for helping people get back to their fullest potential," said Bateman. "One day I was working in the trainer's, and Coach K asked me to be the trainer for the team. I said yes because I have always loved working with others, and in my injury experience, I had great mentors helping me get back to 100 percent- I wanted to apply that to someone else's life."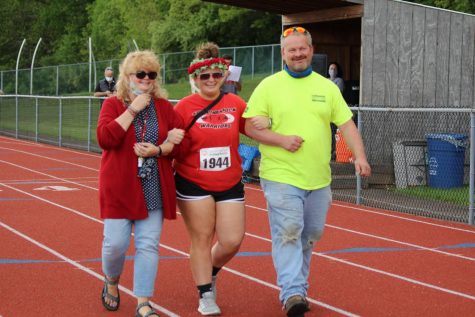 Bateman also remarks that the team has inspired her throughout her work because of the determination that is put forth each day.
"The athletes inspire me the most," said Bateman. "The kids are so happy to be there and are so excited to be trying to become stronger. They bring joy to my day when we have practices or even when I see them in the hallways."
Coach Kristin Johnson, referred to by athletes as Coach K, is more than proud of her team and of their performance on Wednesday.
"The best part of Wednesday was coming together at our home track for the first time in school history [for a Unified meet]," said Johnson. "We also loved honoring Maddie Bateman, our senior!"
From being a constant inspiration to athletes to giving them words of encouragement on the field, Coach K has helped to foster the inclusive environment that exists at every meet.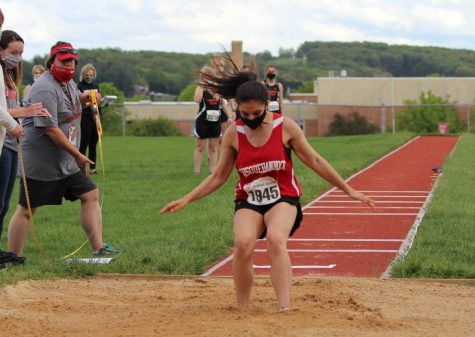 Sophomore Cameron Fullem, who competes in the 800-meter as well as mini javelin, is inspired by Coach K at each practice and event.
"She always has a positive attitude and is always encouraging everyone and cheering us on," said Fullem.
The immense support from parents and coaches alike for both teams also contributes to the successes of student-athletes who smile at the cheers as they go about their events.
Not only was senior night on May 5, but a special performance took place prior to the meet's start with the playing of the National Anthem by junior Claire Gutridge on her melodica.
The team competed in Regionals on Monday, May 10 at Dallastown High School and placed second to Dallastown by half of a point.
Overall, both meets were full of positivity, determination and smiles.