Cheerleaders Rally their Way Back to a Normal Season
May 20, 2021
The girls cheerleading team performed for half-full stands filled with parents for three home football games.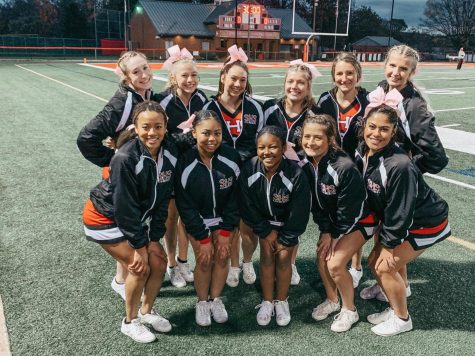 The cheerleading team had a very meager season compared to past seasons because of the restrictions due to covid. 
Hoping for a normal season, tryouts for football cheerleading are coming up on May 19 and 20 from 6 to 8 p.m. for this upcoming season. 
Coach Jessica Beste is excited for this season.
"The upcoming senior class of 2022 is a large and very talented group of young ladies; they have been cheering together for years," said Beste. "It is the most rewarding experience watching these ladies grow in skill and confidence together. They will be a powerhouse and instrumental in continuing the expectation of excellence for Warrior cheerleading; they will mentor the younger and newer athletes on the team and continue to push each other and themselves to work together to reach the goals they set for themselves."
Coach Beste has stepped down from the head coach position after many successful seasons and is now a volunteer coach.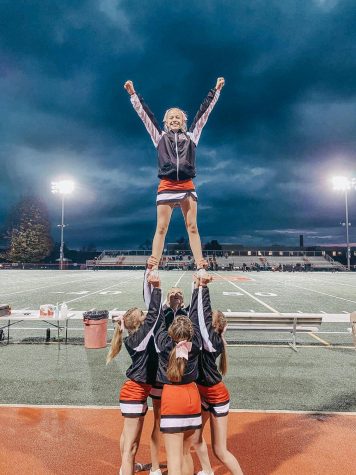 Freshman Arielle Wilson was on the varsity squad this past year and hopes for a normal year next year. 
"My favorite part about football season is being able to be on the field with the boys, watching the game up close while cheering for them," said Wilson. "Also, being outside, under the lights, with the crowd cheering and [the] band playing gives off amazing vibes."
This season, the girls were not able to cheer for a big crowd due to the limited number of tickets.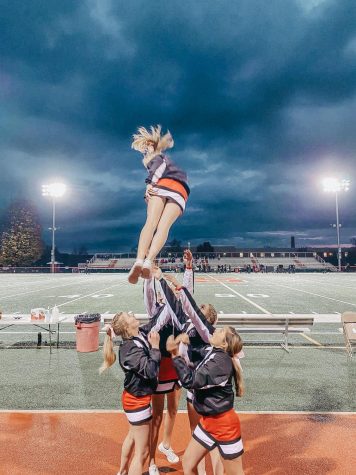 Junior Andrea Hammond is preparing for her senior year on the cheer team.
"Mostly, I'm getting all of the paperwork done, and the most important thing I think is stretching," said Hammond. "I can't prepare anything else until I learn the material at tryouts."
According to Beste,  the uniforms need to be ordered, and cheerleading camp is coming up in early August. The team is excited for hopefully a normal season.