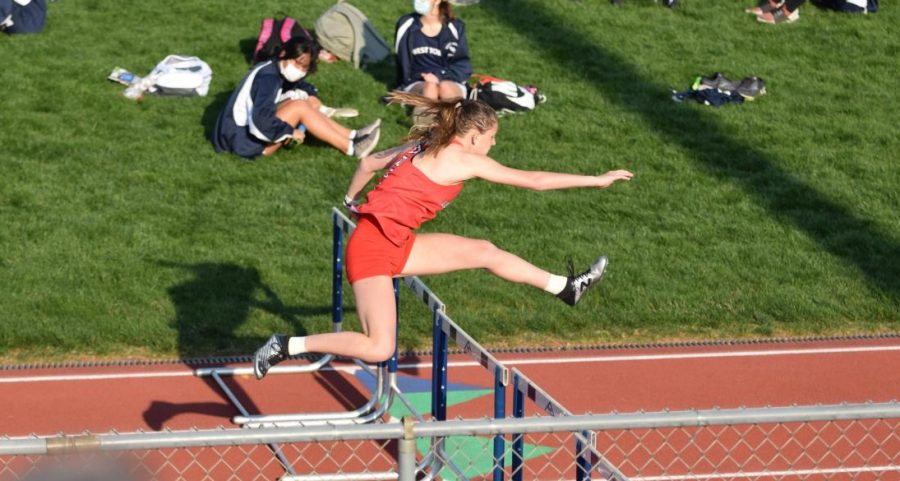 Students Set School Track Records
April 23, 2021
Two sophomore athletes broke records in track and field in an invitational at Shippensburg University this past weekend.
Matt O'Brien and Ryleigh Marks each set new school records. O'Brien set a new record in the boys 3200-meter race with a time of 9:40.64, while Marks became the new girls record holder in the 100-meter hurdles race with her time of 15.81 seconds.
O'Brien runs both track and cross country and has been running since middle school. He won both the 1,600 and 3,200-meter races at meets against Dover and Kennard-Dale last week.
O'Brien has set York County's top time in the 3,200 at 9:40.64.
O'Brien also participates in many activities, including singing in the PMEA District Choir and
PMEA All State Choir and playing in the York Youth Symphony Orchestra and the Orchestra here at Susquehannock.
"I strive to encourage my teammates to …improve and [I] act as a leader on my team by giving my best effort and helping many of my teammates with training, both in-season and out of season," said O'Brien. "Without my experienced coaches and their incredible knowledge of running, I would not be even close to the runner I am today, and I am so thankful for them and their dedication to improving our team."
O'Brien runs a series of events in track and field including the four-by-eight, 1600, 200 and sometimes the 800. The team environment is extremely important to him, along with the guidance of his coaches, like Jim Lebo. "Getting better with the team and meeting your goals is really cool," said O'Brien."[Within] the team environment outside of practices and meets, we will have pasta parties and those are really fun- just hanging out with the team."
Matt was also nominated for athlete of the week on GameTimePA YAIAA Boys Athlete of the Week.
Marks competes all year round on the school's soccer team,
track and field team and the swimming team.  She started running track when she was 12 years old, for her club team "Trojan Track Club." Marks runs a series of events including 100-meter hurdles, 300-meter hurdles, triple jump, long jump and relays, including the four-by-one and four-by-two.For her club track team, she does the heptathlon which is a series of seven events that include the 100-meter hurdles, high jump, shot put, 200-meter dash, long jump, javelin, and 800-meter run.
Laura Maxwell is Marks's hurdling coach and has been her coach since middle school.
"I think who inspires me the most is a lot of Olmypians and YouTube," said Marks. "My mom inspires me a lot too. My mom is the one who started this whole passion for running up, and she was there with me this entire time- she made all this happen."
What Marks likes most about the team is that not only is she running for herself, she is running for the track team, and she is not the only one who broke a record.
"It's nice to have teammates who are not only athletes with you, but they are also your friends and that is what keeps me going when I practice," said Marks.
Marks didn't truly think she broke the record at first as she thought that it was a nearly impossible feat as a tenth grader. The record for 100-meter hurdles was set in 1980, so this meant a lot to her. "If I had to give advice to any younger kids, it would be to never give up," said Marks. "There's many times where I thought about giving up. Don't give up, and work hard because hard work always pays off in the end."