Aevidum Newsletter Tackles Mental Health Topics
January 4, 2021
Aevidum released the second volume of its mental health newsletter.
The discussion of these mental health topics ensures that every student and community member has a place to go and shows that no student is alone by providing someone they can relate to.
Senior Luke Immel has been a hardworking member of Aevidum for four years and greatly stresses the importance of mental health at this time.
"With the unsure times we are experiencing, some people's mental health have taken a hit, so it's important to encourage positivity and treatment," said Immel.
Coping mechanisms and activities are available for all students through the newsletter.
Senior Nikki Stenley has been a member of Aevidum for two years and publicly advocates for mental health awareness.
Stenley had a large part in the creation of the Aevidum newsletter's two volumes and believes it is valuable for all students.
"We want to get information out to students and the community to show them that they're not alone," said Stenley. "There are resources that they can turn to, and there are things that they can do to help their mental health through the newsletter."
This volume of the Aevidum newsletter provides many different anonymous, celebrity and veteran stories to ensure everyone can find something to relate to.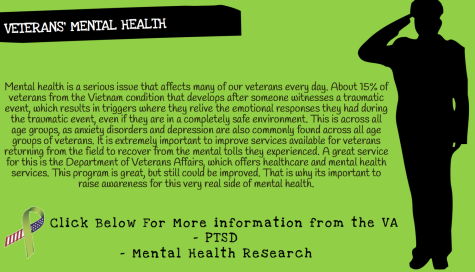 "Mental health has never been more important than it is now," said Stenley.
With the difficult times everyone is facing right now, a focus on mental health will be very beneficial for the students.
The second volume focuses on mental health topics like seasonal depression, featuring interviews with professionals.

Andrew Warren is a history teacher at Susquehannock and an adviser for Aevidum.
"Isolation during the early months of COVID-19 impacted the mental health of many people, regardless of age," said Warren. "As students transition and adjust to a new hybrid schedule this school year, we wanted to help with any challenges they may face. We want students to feel supported and understand that they are not alone."
From sexuality to race, gender and status, there is something beneficial for everyone in Aevidum's newsletter.


"Everyone has mental health, regardless of individual differences," said Warren.
There are two volumes of the Aevidum newsletter out now, and future volumes are in the works.
Hopefully this holiday break will allow our Warrior Family to experience some deserved rest and recharge their batteries! To help in that process, here is Volume 2 of the SHS Aevidum Newsletter!https://t.co/706QOhxoZe

— SHS Aevidum (@SuskyAevidum) November 25, 2020
Student input and feedback is appreciated for the newsletter and can be emailed to Stenley at [email protected].
Mental health resources and stories will remain consistent, but the newsletter is still growing and evolving.
The newsletter can be found and accessed on the Aevidum Twitter or using this link.