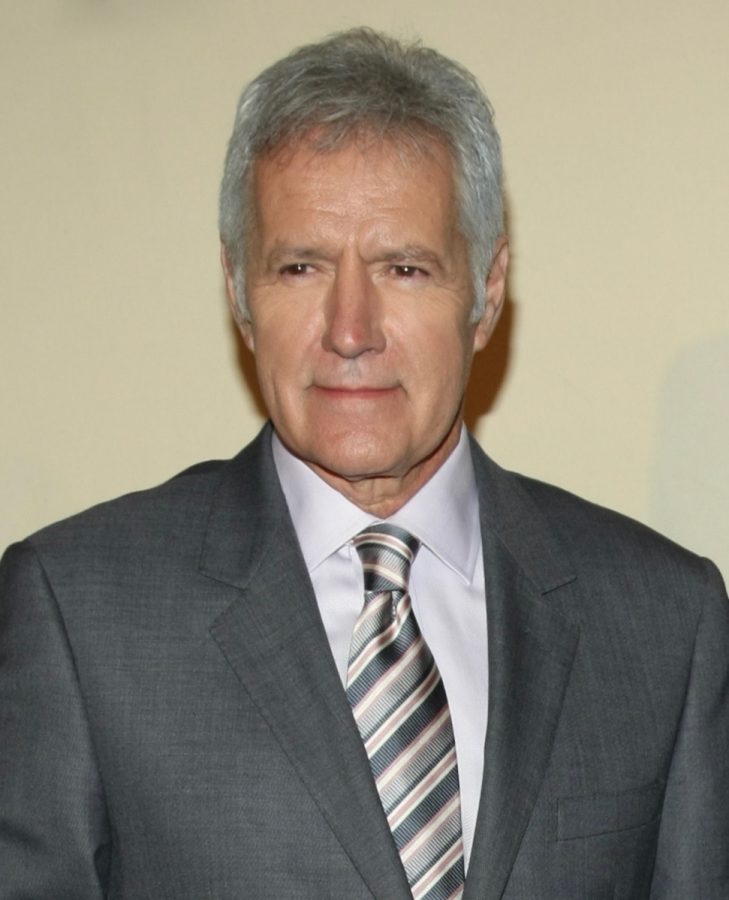 Alex Trebek: His Life, Death, Legacy
November 21, 2020
"Who is Alex Trebek?" to quote one of the infamous "Jeopardy" lines.
The beloved host of the hit game show "Jeopardy" passed away on Nov. 8, 2020 at the age of 80.
Jeopardy will never be the same & game shows in general are forever gratefully fortune & changed for the better to of had your talents bless there star studded stages.

Thank you for your timley voice your poise your courage. God Bless & Rest easy now Trebek.@Jeopardy #Trebek pic.twitter.com/0uAxZhVwEA

— J S (@JSlamboni) November 13, 2020
Alex Trebek was born on July 22, 1940 in Sudbury, Canada.
Trebek attended the University of Ottawa to study philosophy but quickly decided to pursue a career in journalism after his graduation.
Despite being rather successful as a reporter and newscaster, Trebek ultimately decided to leave the life of journalism behind and find a career in the far more lucrative career of hosting game shows.
After quickly passing through many smaller Canadian game shows, Trebek became the host of the show we all know and love: "Jeopardy."
With Trebek as its host, Jeopardy quickly became one of the most popular game shows in the history of television.
Alongside the show's rise in popularity came Trebek's moment in the spotlight as he won multiple Daytime Emmy Awards for Outstanding Game Show Host.
Even with a dramatic popularity increase, Trebek was always motivated and humble when speaking on his success.
"Take your job seriously, but don't take yourself too seriously," said Trebek when asked
For over 37 seasons and 8,000 episodes, Trebek held the infamous position of "Jeopardy" host even after being diagnosed with Stage 4 pancreatic cancer in March 2019.
Today's Jeopardy intro is a bittersweet but important PSA from Alex Trebekpic.twitter.com/dU7SkByG7q

— Mark (@tole_cover) November 19, 2020
Even after his diagnosis, Trebek continued to keep his humor and touched the hearts of millions of people all over the world.
Senior Ethan Miller, has been a die-hard fan of Trebek since he was a child and has been greatly influenced by both Trebek and his show.
"Growing up watching Jeopardy every night really inspired me to learn and find out new things, even knowledge some would consider trivial, and without Alex Trebek, it simply wouldn't have been Jeopardy," Miller said.
Because Trebek was one of his greatest role models, Miller intends to carry on his legacy through his charismatic attitude.
"I intend to carry his attitude towards life with me forever," said Miller. "I think his dedication towards teaching the world is something that deserves to be commended."
Miller also wants to be sure Trebek is remembered not just for his show, but for his personality.
"
"I'd just like to make sure people know about his sense of humor," said Miller. "He wasn't just a trivia guy, he was a man who had an incredible personality. His book is filled with jokes, even towards the end of his life he'd joke with his friends about the situation. It's easy for a lot of people to see him as some sort of brainiac, but he truly was a down to Earth man who I think everyone could learn a lot from.""
— Ethan Miller
Similar to Miller, junior Braden Jones spent a lot of his life entertained by Trebek's charms and wit.
"I can vividly remember my first time watching Jeopardy at the age of 10," Jones said. "Seeing Alex Trebek as a host was almost completely natural as if he was born for his job."
Jones stressed how the show was not only about the prize, but the experience.
"My favorite memory of the show is when the contestants would use their final answer to show love to Alex," said Jones. "It went to show the pure relationship between him and his contestants and how much respect he gained as an inquisitive, yet humorous host."
Trebek's life and dedication to his practice rendered Jones speechless when speaking on his memory.
"I simply cannot put much into words about Alex Trebek," said Jones. "He was just a straight-to-the-point man who was able to find success in the position of a game show host, and I admire his perseverance. His largest impact on me was how much he still worked during his fight with cancer, without ever complaining or taking a break from his professions."
To memorialize Trebek and all he stood for, senior Greta Flemmens recollects her favorite quote from Trebek that highlights his positivity.
"A personal slogan of Alex Trebek's that I know is 'The secret of happiness, of course, is not getting what you want; it's wanting what you get,'" said Flemmens.
Even though Alex Trebek himself has passed on, his presence in people's lives will never be forgotten.