Girls Soccer Coach Returns
October 23, 2020
Girls soccer coach Phomma Phanhthy has returned for his second season.
Junior midfielder Shelby Derkosh is happy about Phanhthy's return.
"I'm glad Coach P. is back for another year because we have had a bit of a rotation of coaches lately, so it's good to have some consistency with coaching," said Derkosh. "He may be hard on us at times, but we all adjust to it pretty well."
Sophomore midfielder Evelyn Weldon has found Coach Phanhthy very inspiring since she was a freshman.
"He has been my coach since I was a freshman, and I have only improved because of him," said Weldon. "He has given me opportunities that have helped me and the team."
Assistant Coach Vitto Pasko also thinks Phanhthy inspires the team to be better players.
Most of the girls agree Phanhthy is an inspiration for them to be a better player on the field.
"I think coaches motivate players differently. He looks to motivate them in different ways," said Vitto. "He's demanding as a coach, which coaches should be. He believes in the players, and he cares a lot about them."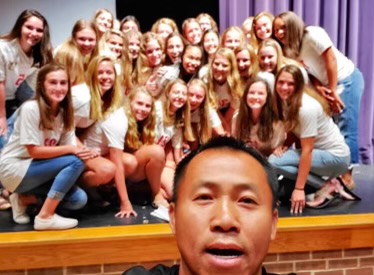 The team hopes to win division championships but can only reach that goal if they have a good turn out of the season.
Derkosh thinks this season will have a good outlook.
"Last year we made some adjustments when Coach P. joined, and it made us successful, but not good enough to win anything," said Derkosh. "This year, we got a third coach that is both JV and varsity coach. We have made some more adjustments, and it has helped us a lot more this year."
The relationship between the coaches and players also plays a large role in how the season turns out.
Vitto thinks the coaches have an effect on how the season is going to turn out.
"As coaches, we look at trying to develop players technically and also their understanding and tactics of a game," said Vitto. "We try to teach them where there are opportunities to take advantage of on the field and games, and we look at different formations that we play and the style of play. So I think that is driven out by coaches."
The girls currently have a record of 7-2.
Weldon thinks highly of this season.
"Personally, I hope we win the division and go onto the playoffs," said Weldon. "If we continue to win our games and play well, I think we will have a good chance of being division champs."
The Girls soccer team record currently stands at 7-2, with their next game at home against Gettysburg on October 28, 2020.