Class of 2020 Valedictorian and Salutatorian Reflect on Success
May 27, 2020
The class of 2020 may not be able to graduate on the original date; however, they will still have a ceremony on Aug. 7.
Valedictorian Cassidy Bolio
 Bolio will graduate Susuquehannock with a 4.96 GPA and will continue her academic career at Carnegie Mellon University studying Computer Science.
Bolio has always set high expectations for herself, as she took many AP classes and pushed herself to be successful.
"I have been very lucky in that I genuinely enjoy most math and science subjects – gross, I know. I used to do Khan Academy for fun (and actually completed every math skill on the site in sophomore year, something like 1,500 lessons). So in terms of being valedictorian, I got where I am because I was lucky; the "hard work" needed to succeed in AP math and science classes was hardly work to me – it was fun," said Bolio. "On a more serious note, if a solid GPA is important to you (for college or personal reasons), I would recommend taking AP classes in subjects you feel strong in. Also – Grammarly. I don't think I know how to use commas properly without it. Overall though, GPA is not the best measure of an academic learning experience, so don't stress over it too much."
Through the dedication and hard work put in and outside of the classroom, being valedictorian was one accomplishment many would work for.
Some students tend to procrastinate instead of doing work early; however, it is good to experiment with both, according to Bolio. 
"One piece of advice for the underclassman is to embrace experimentation before commitment – this applies to most things. Some people work better when completing assignments far in advance; others thrive in procrastination," said Bolio. "Take time to try out both and see what works best for you before choosing one to follow resolutely. This can also flow into note-taking styles, studying methods, and what subjects/classes you want to focus on. I spent a lot of time procrastinating on my assignments before realizing that I did better with more time for bigger papers [like English and History]. Building an expansive and unique palette of experiences allows you to truly know yourself – how you work, how you learn, and what you want from the future."
Not only was Bolio successful throughout her high school years, class of 2020 salutatorian, Lucy Mettee, was successful as well.
Salutatorian Lucy Mettee
Mettee will attend Texas at Dallas for Biomedical engineering.
Throughout all four years of high school, Mettee has prepared herself for these final moments of high school.
"To get where I am today has been years of laying groundwork and planning. I have been on multiple tracks to ensure I got to the point I am now, pursuing a scientific degree at a college I am excited about. The majority of my planning was right at the beginning of high school when I put myself on the honors tracks we have, and [I] decided to take both of the Latin and engineering tracks as I enjoyed them both and knew they would look good on any applications, college or otherwise. Along with the courses I chose to take were the tests I chose to take, which have most influenced the exact position I am in now," said Mettee. "I have always been an anxious person so I decided to take as many versions of the important standardized tests as I could, including the PSAT and the preACT. What I did not plan for, however, was for the PSAT to change my plans so dramatically. Because of my score on the PSAT, I was named a National Merit Semifinalist, meaning I could progress through their competition and potentially win scholarships. I completed the application to keep going and just this year was named a Finalist as well, opening up a lot of opportunities for me. Because of this finalist status and being accepted to the University of Texas at Dallas, I have been admitted into their National Merit Scholars Program there which includes a number of advantages and opportunities for me while I study my chosen field. Back to my previous advice though, I credit a lot of where I am to my teachers, who have always been there with advice and good teaching, and I feel like I made the most of my high school time by getting to know them and engaging in the content they teach."
Susquehannock has prepared both of these brilliant students, in order to make them successful throughout high school. As for speeches, both students are prepared for the graduation even though it has  pushed back due to our current situation.
Despite everything going on, Bolio and Mettee are ready to take on college-level challenges and aim to be just as successful as they were in high school.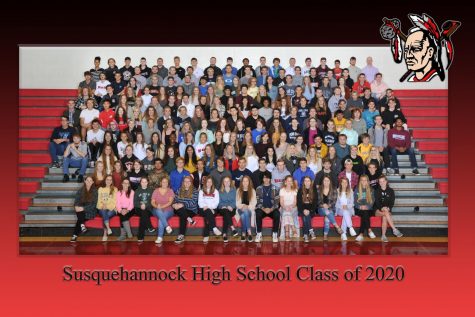 To see these students and their 2020 classmates, members of the District Administration, SHS Administration, and SYCSD Staff plan to air a special video for the Class of 2020 on Friday, May 29, and the postponed graduation will occur on Friday, Aug. 7 at 9 A.M.