Local Businesses Evolve During Pandemic
May 21, 2020
Unprecedented times calls for unprecedented measures.

Loading ...
Many local businesses are having issues with the pandemic because they cannot get the staff or customers into their business.
Many businesses have enacted different solutions to combat this problem.
Amber Brose, employee at Rita's, explains the difficulty of the issue and how they fixed their problem.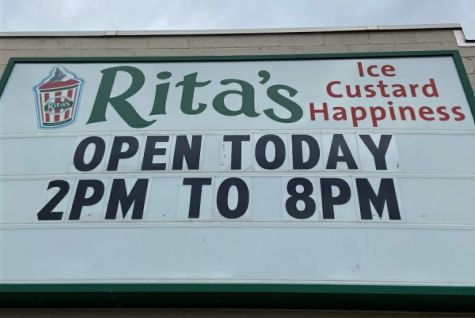 "The hardest part of my job the past few weeks has been the limited staff. In order to protect our younger staff and those who have highly susceptible family members, we have drastically cut down on our number of workers," said Brose. "This means that I work 5-7 days a week, always by myself. This can get especially stressful when a line forms. Though I understand the joy that a frozen treat can bring, I hope people do consider the risks when going out for something they could live without. It is also stressful as a worker when people show up in my line and refuse to obey social distancing rules. By coming up to my window without a mask, you are showing that you have no respect for my service."
Rita's started a "No Contact" policy, making sure there is no contact between the customer and the employee.
Saubels is introducing new ways to get items customers.

Saubels owner, Betti Saubel, comments on how Saubels now has curbside pickup for ordered items.
"We decided to offer curbside because we thought it was important for elders, compromised, or folks who don't feel comfortable entering public places. We created an email so if you want to order, you email them with a list and they will get in contact with you with any issues and pickup times," said Saubel. "It has lessened the people in the store, and we have been able to service almost the same day. We, as the Saubel's Family, appreciate the employees and community helpers to help stock shelves. It has been crazy busy, and we appreciate the business. Everyone has been working very hard."
Jenna Potteiger, owner of Seven, notes how they have changed to their new normal.
Seven Sports Bar, located in New Freedom, is open for carryout and delivery.
"In the past, almost all of our business was dine-in, so making the switch to exclusively offering takeout was a challenge," said Potteiger. "Employee and customer safety is our top priority, so we started by implementing workplace policies to ensure social distancing and enhanced sanitation routines. Then, we began innovating to try and boost sales. We had never tried delivery or curbside pickup services, but both approaches have been successful."
Many businesses are changing their regular workflow to accommodate the safety hazards with a normal business.