Winter Athletes become All-Stars
April 30, 2020
Multiple Susuquehannock athletes were mentioned and nominated for All-Star Teams this winter season.
Sophomore Jalen Franklin worked hard during the season and finished with what he deserved.
"Honestly, it felt great knowing some of the hard work paid off. It felt just as good to see Jake [Eden] make All County as well. There was so much work we put in together over the off-season that nobody saw [including] 6 a.m. workouts, open gyms, etc.," said Franklin. "To see the results come [out the way they did] makes the [work] all worth it, [ including] leading our team to one of its best seasons in over a decade ."
Franklin made the first team for basketball, and his teammate senior Jake Eden made the second team.
Junior Kelsey Gemmill represented the girls basketball team, as she was selected as an Honorable Mention.
Not only were basketball athletes recognized, so were wrestlers.
Senior wrestler Colby Romjue was nominated for first team because of his successful season.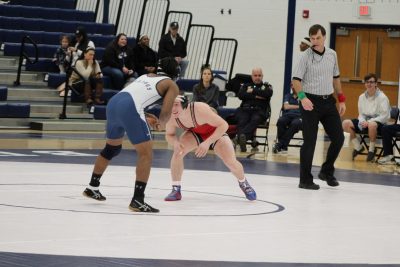 Romjue finished his senior year by winning his third straight AAA Sectional title, took third at the AAA South Central Regional and took eighth at the AAA State Championships.
In addition to the wrestling and basketball athletes, multiple swimmers were mentioned as well.
Senior Logan McFadden was named first team for the 500 Freestyle and 200 Individual Medley.
McFadden had a series of accomplishments, including becoming the AA District III 200 Individual Medley Champion and AA District III 500 Freestyle Champion, setting the new PIAA District III record of 4:35.99, becoming the number 1 seed at the AA PIAA state meet with the fastest recorded time in AA this year in the 200 IM and becoming the number 2 seed at the AA PIAA state meet with the second fastest time recorded in the 500 Free this year.
The state meet was canceled due to current pandemic issues, leaving McFadden upset.
"It definitely sucks to lose the chance to officially swim and win gold, but it doesn't take away from any of the accomplishments the team and I achieved this season, as of right now our school is the fastest AA 200 free relay in the state so in my eyes we are state champions," said McFadden.
Despite the heartbreak of not being able to compete at States, he was still positive about the situation and his school season.
"It was heartbreaking to have the meet canceled, especially as last minute as it was. Leading up to the meet I was worried that it was going to be canceled, but we had driven the entire way to Bucknell, so I figured we were safe but obviously we were not," said McFadden. "I feel like a lot of people would look at the season as a waste not being able to race at states, but I still will carry all of the training and hard work this season with me into college which is more important than states."
All of the hard work and dedication will pay off when he swims at the collegiate level at West Virginia University.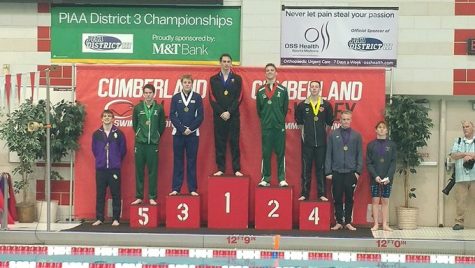 Sophomore Max Pfliger made second team in Diving as the AA District III Diving Champion, and he was projected to medal at the AA State Diving Championships.
Freshman Jake Wade and seniors Ian Achterberg, Rohit Kandala and Logan McFadden made the second team for the 200 Free Relay, ending their season as AA District III Champions and the number 1 seed at the AA PIAA State meet with the fastest recorded time this year.
In addition to the 200 Free Relay, the 400 Free Relay team made third team and took second at the AA District III Championships.
Athletes all over are not able to participate at these All-Star games or State Championships\; however, they are all grateful for being awarded these honors.