Teachers Transition to Online Instruction
April 24, 2020
Due to COVID-19, this is a big change for everyone, especially teachers, who have to completely transition to teaching online.
Certain subjects like art and gym are more difficult to teach online, but all teachers are adjusting to the change.
Many teachers like physical education teacher Joseph Sorice see this change as a learning curve.
"I have previously taught online classes in the past, but this is the first time I've had the opportunity to teach Phys Ed online," Sorice said. "I've always been very routine-based, and not being able to meet with each class individually and in succession has been a major adjustment. I'm also very used to moving around all day, being active with each of my classes. It's been difficult to force myself to stay in front of my computer for extended periods."
Art teacher Wesley Myers appreciates this transition as he sees it as a healthy way to be forced out of his comfort zone; however, there are definitely aspects he likes more than others.
One undesirable aspect is, "…Very simply the separation from all the students and co-workers," according to Myers.
Math teacher Kori Eisenhart misses seeing everyone on a daily basis.
"I think it is important for everyone to be understanding, patient, and kind as we navigate this together," Eisenhart said.  "This pandemic has impacted and will continue to impact us all in different ways and we need to be empathetic to others' situations.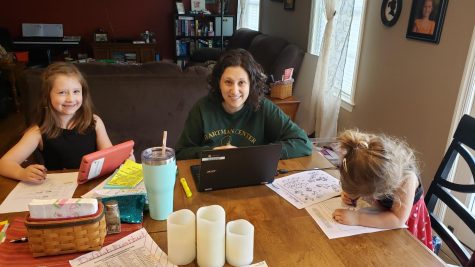 English teacher Tim Groth likes that the new adjustment allows for more flexibility in his schedule.
"I try to maintain my normal school hours Monday through Friday, but it's nice to be able to adjust those a little bit," Groth said.
Groth, like all of the teachers, misses seeing everybody around the school.
This has been a huge change for everyone, but all of the teachers have said that communication and keeping a sense of normalcy will allow everyone to be at ease with this situation.