Exit 4 of I-83 Gets Iced out- Diamond-Style
March 31, 2020
Without a doubt, local drivers have driven on Interstate 83, using entrance/exit 4 to reach Shrewsbury.
These drivers should expect a diamond-caliber change.
Gannett Fleming Inc, an engineering firm, has redesigned the Exit 4 interchange to be a diverging diamond.
A Diverging Diamond Interchange (DDI) routes traffic to the left side of the road prior to a bridge to allow for vehicles to turn directly onto the on-ramp.

This interchange was used because it prevents traffic from crossing the intersection over oncoming traffic.
With a DDI, there are fewer conflict points relative to the previous intersection.
The current intersection has 28 conflict points, while the newer intersection will have 14 conflict points.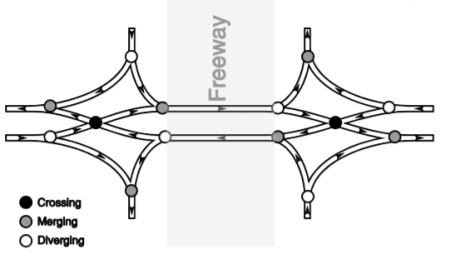 Conflict points are when traffic comes to a stop, or has to cross oncoming traffic.
The unique design of the DDI's crossover movements reduces the conflict points by 50%.
The Exit 4 Interchange has a "high left turn percentage."
More cars get onto the North and South ramp, meaning there are more left-hand turns.
The new intersection gives the driver a safer turn onto the ramp.

Currently, Kinsley Construction is in charge of construction of the new interchange.
Kinsley Construction beat out three other construction companies with their bid equaling 29,867,000 dollars.
Construction began in March of 2019 and is expected to be completed by Spring of 2021.
The SYCSD Director of Transportation Julie Delozier does not see construction impacting the local area.
"The construction at the I-83 interchange doesn't impact our bus transportation much," said Delozier. "We have one bus that originally went through that interchange to get to student's bus stops. We have changed the route so that the bus may avoid that area."
There are no Diverging Diamond Intersections in our area, with only a few in our nation.
PennDot sent out a press release on the matters of COVID-19.
According to PennDot, "The emergency work that continues addresses specific safety need criteria… and work needed to eliminate roadway restrictions that could impede the ability for the movement of life-sustaining goods and services."
Check out PennDot's website for more information.