Tips for Prom Dress Shopping
Although prom is scheduled for May, many are late to shop for prom dresses as prime time-shopping started in January.
On average, the new stock starts to appear online in October to November. The latest designs can hit the racks as early as December. While that might seem early to start browsing, It is then that the most extensive selection of fabrics, sizes, designs and colors are available.
Last-minute shoppers usually have a limited selection and get charged with fast shipping fees. So, shopping early can help save money.
The average prom dress is made to fit women 5'4″ and over. As a result, many people will need to get alterations to get their perfect fit.
While there is a plethora of seamstresses in and around York county, between prom and wedding season, they can get booked up months in advance. It is recommended to schedule an appointment as soon as possible. Depending on the seamstress, it can take anywhere from two weeks to three months to complete alterations. When getting measured, wear the shoes you intend to wear to prom, so the seamstresses can adjust the proper amount.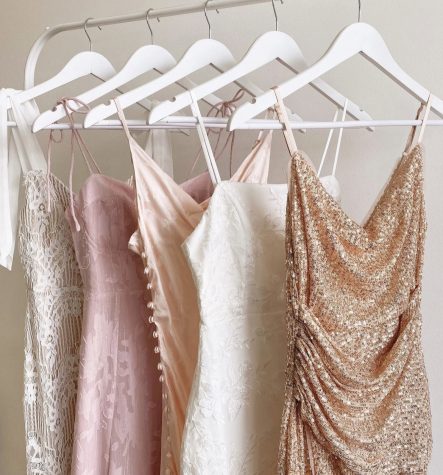 It is easy to get overwhelmed by the number of stores selling prom dresses.
Here is a breakdown of some online stores:
Lulus is a cheaper store with a wide variety of prom dress selections. Their dresses and feminine suits range in price from $59 to $100. Lulus currently has 726 styles up on their website. Their sizes range from XXS-3X and come in numeric sizes 0-10. On TrustPilot, the website has 3.4/5 stars and 3,590 reviews. 
Lucy in the Sky created an immense buzz during homecoming season but disappointed many customers with unexpectedly long shipping and poor quality fabric. The online store's price ranges from $30-$150. Their size ranges from XXS-XL. Lucy in the Sky has 3.9/5 stars on TrustPilot with 6,942 reviews. Currently, on their website, 5,949 products are available under the "Prom" tab. 
Katelyn Ketterman cautions against buying from Lucy in the Sky.
"Lucy in the Sky has so many great options, but the shipping is unreliable," Ketterman said. "Not only have I had poor experiences but so have my friends. The dresses themselves were not as advertised on the website in the sense that some were see-through and not of great quality." 
ASOS has more inclusive sizes, ranging from XS-2XL, and numeric sizing ranging from 00-26. ASOS has feminine-styled suits in a vast supply of colors as well. Although ASOS can be a little pricey, they have a ton of cheaper options also. Their prices range from $32 to $550. Under the Prom tab, 1012 styles are currently available. On TrustPilot, ASOS has 3.9/5 stars with 173,546 reviews. 
Currently, Pretty Little Thing has a lot of dresses and suits on sale. Their collection has 239 styles up on their website. Their sizes range from 00-26. Pretty Little Thing has dresses that come in petite sizes. Their prices range from $30-$130. On TrustPilot they have 3.8/5 stars and 92,470 reviews.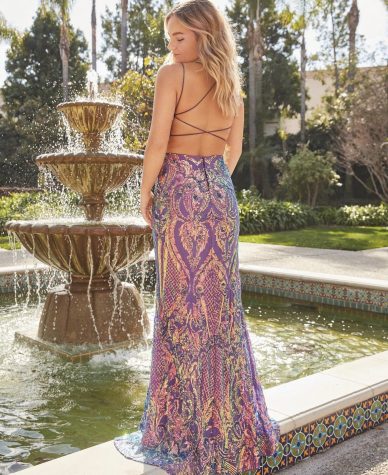 The closest Windsor to Susky is located in Towson Mall. They have 637 styles available under the prom dress tab. Their prices range from $30 to $299. They carry sizes XXS-XL and numeric sizes 0-15. Windsor has a wide variety of unique dresses from style to color to fabrics. 
McKenna Porter has bought from Windsor for previous dances. 
"Windsor is a good option for those who want a reliable, quality dress for a lower price point." Porter said. "A lot of people shop there for their dresses; however, so you are less likely to have a unique dress if you buy from nothWindsor."
There is a Macy's located in most shopping centers. Macy's carries a wide range of sizes and lengths. Their sizes range from XXS-XXL and numeric sizes 00-28. Depending on the dress, Macy's has petite sizes. They carry an array of styles in-store and 334 styles on their website. Their dresses range from $39.99-$340 in price. Macy's is an all-in-one physical stop where you can find dresses, shoes, and jewelry. 
Prom has been an annual event for years. Chances are you know someone who has been to a formal dance or party at some point in their life. Ask friends, family, and others you know if they have a dress you can borrow or buy from them. Thrift stores such as GoodWill or apps like Depop and Poshmark sell clothes second-hand. Facebook is another great tool to find local second hand prom dress events. Online second-hand clothing stores and apps like Depop and Poshmark have a wide variety. This way money is saved, and it is more sustainable.
All stores mentioned also sell an array of shoes and accessories. Prom is currently scheduled for May 6 this spring. 
Leave a Comment
About the Contributor
Katie Ball
Junior Katie Ball is a reporter and social media editor for the Susquehannock Courier. For the past three years, she has been involved in the swim and...