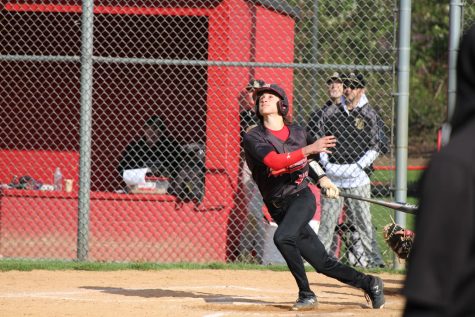 After leading the Warrior Varsity football team as their first ever starting first-year quarterback, freshman Josh Pecunes has secured another starting position with the Warrior Varsity baseball team, as their second baseman.
Playing baseball since he was 4 years old, J. Pecunes contributes his athletic success to dedication and hard work.
"It is different being the only freshman on the varsity team; I am not used to not being with my friends on the field, but the upperclassman players are really helping me a lot," J. Pecunes said.
J. Pecunes enjoys having a key role on both the football and baseball fields.
"It's a dream come true," J. Pecunes said. It is a dream come true because he has always thought about playing at this high of a level, at a young age.
As of May 4, J. Pecunes has dominated both in the field and at bat.
According to Max preps, J. Pecunes carries a batting average of .538 with only two strikeouts out of 62 plate appearances.
He also has a fielding percentage of .969 which is no surprise to senior Jacob McBride, who has known Pecunes for 9 years.
"[He's] a great athlete who has so much drive that [I have] only seen in a couple of people," McBride said.
McBride contributes him being such a great athlete to his hard work and mindset during the game.
Older brother senior Zachary Pecunes reiterates his brother's success to nothing but tough grind and perseverance.
"I always knew he could do it, and his IQ in baseball is special," Z. Pecunes said.
"He puts in a lot of hard work both in and out of school and deserves to be on varsity."
J. Pecunes making varsity as a freshman is a testament to his natural athletic ability and dedication to his career in sports, never having imagined being on two varsity teams.
The Susquehannock Warriors varsity baseball team's last game is at home on May 11 at 4:15 p.m. against Eastern York.