I asked Ben Roethlisberger what the last day was like in the wake of his final game at Heinz Field. pic.twitter.com/UbKKiKNOjx
— Joe Rutter (@tribjoerutter) January 5, 2022
 Steelers quarterback Ben Roethlisberger announced that he would be retiring at 39 years old after 18 seasons of football on Monday night. Unfortunately, not everyone is like Tom Brady who is still playing the sport at 44.
Roethlisberger has been the Steelers' all-time best quarterback since 2004, bringing them to three super bowls and winning two of them.  
Roethlisberger has 63,844 passing yards in his 18-season career, making him fifth in all-time career passing yards. He is only 7,000 yards away from surpassing quarterback Brett Favre's 20-year long career record. Roethlisberger's highest season of passing yards is in 2018 with 5,129 passing yards.
Steelers fan and history teacher Steven Wiles sees pros and cons about "Big Ben" retiring.
 "I think he'd be satisfied with the results of his career," Wiles said. "…there have been more positives than negatives. He has won super bowls. It will definitely be the end of an era…he and Mike Tomlin made a good combination."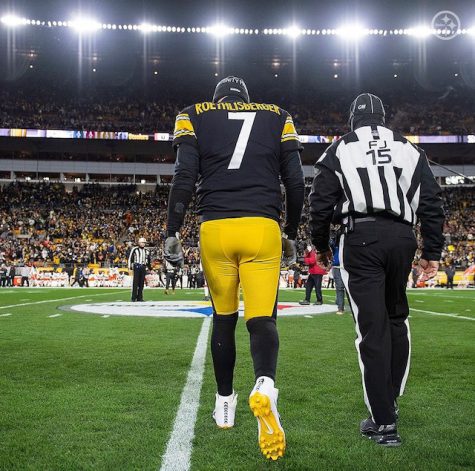 For all Baltimore Ravens fans, this is bittersweet. Roethlisberger has caused a lot of misery for the Ravens, but the NFL has lost an icon, due to his decision to retire.
As Roethlisberger took the last snap of the game against the Cleveland Browns for a kneel, the crowd went wild, getting loud to show their appreciation for him. They won 26-14 eliminating the Browns from the playoffs.