Special Education teacher Karen Siddall is retiring at the end of the school year after 32 years of teaching within the school district.
Siddall has been an inspiration to students and staff alike since she began working in Special Education at Southern Elementary, and she admits that she will miss many parts of teaching.
"I will miss working with the students," said Siddall. "As part of my Learning Support teaching, I help kids over their 4 years at SHS to try to figure out what their career or education path will be. And when I see that they are ready to move on to that part of their lives, I sometimes feel like a proud mama!"
Through the years, Siddall has had various memorable moments, one of her favorites being the trips that she helped to plan as the senior class adviser in the early 2000s.
"We used to take a senior class trip, and several times we went to Walt Disney World to attend an event called Grad Night," said Siddall. "The Magic Kingdom was closed to the public and open to seniors only from across the country. They had concerts and special events and photo ops. We even saw Britney Spears! It was a lot of work, but a lot of fun too."
As for after her retirement, she already has some ideas in mind to occupy her time.
"I plan to sell my house and move up to Mechanicsburg where my family is," said Siddall. "Then I plan to travel and go to flea markets and yard sales and do lots of reading!"
Christine Bosley, a colleague of Siddall who also works as a teacher in Special Education, admits that she has left a long-lasting impact on everyone around her.
"…She has influenced many current teachers," said Bosley. "She has helped make me a better teacher, and I'm sure I'm not the only one. Miss Siddall has also been a great advocate for her students; she helps students reach their full potential in both her English and Study Skills classes."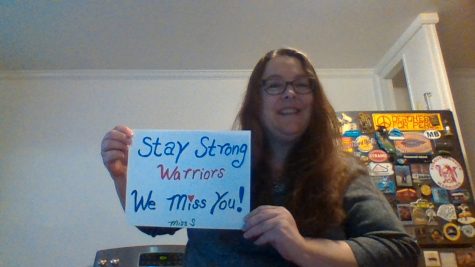 First-year teacher Abigail Good was mentored by Siddall and remarks that she will be missed especially for the positivity and guidance that she brings to the school community.
"She is kind, patient and giving with her time," said Good. "She has impacted me greatly by showing me the ropes at SHS and by helping me develop a greater passion for teaching. She has given me guidance in the classroom as well as with Special Education that I will forever be grateful for."
Siddall wants to leave all students with a final piece of advice.
"Teaching and learning in a pandemic was so difficult for all of us, but despite what many people say, I don't think it was a complete loss," said Siddall. "We were forced to find new ways of doing things and to push ourselves to succeed like never before. And even if we failed at something, we learned! I wish the best to all of Susky- teachers, students and administration- in moving back to a more normal schedule. I would say to students, dream big and work hard!"