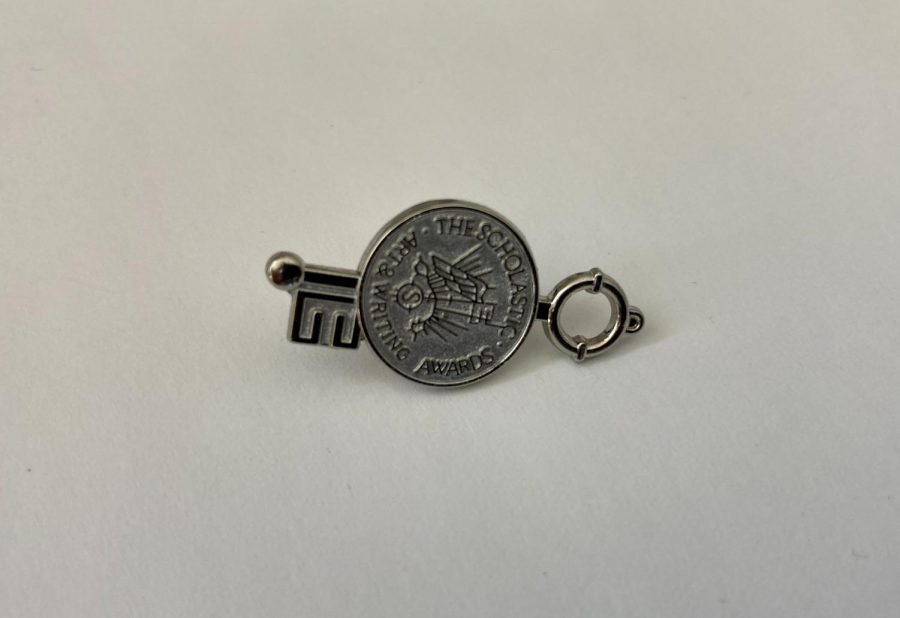 Four Susquehannock students were recognized by the Scholastic Art and Writing Awards in January. 
Sophomore Bea Angela Ricafort won a gold key for her digital art piece, "A Testament to Eden."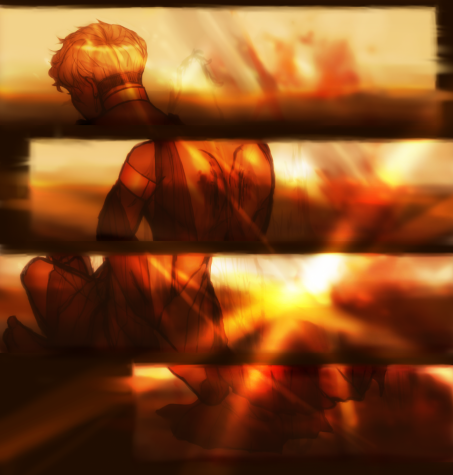 Ricafort drew an angel and used bright colors, such as gold and red, to make the piece visually interesting.
She wanted her piece to depict rebellion, trying to divert from the norm to find independence. 
The piece took her 10-20 hours to make, and in her eyes the hardest part of working on the project was the deadline.
 "I think that put pressure on me to get the work done," said Ricafort. "Just having a deadline forced me to make decisions really quickly." 
Ricafort wrote a story for the competition last year, so this was her first time submitting a digital art piece- she hopes to eventually win on a national level.
Senior Alexandra Marusko was awarded a silver key for her personal memoir, "The Fork in the Road." Her entry is about incidents she's had with cars/driving. 
"I guess you could say I have a phobia of driving; being behind the wheel," said Marusko. "And so I just detailed moments from my life that explained why I am the way I am today." 
A lot of the time when she writes, she wants to get a topic off her mind and to process it a little more. 
"I just kind of wrote it all down… to help myself kind of just understand why I'm feeling this way and why it's such a difficult process for me to drive," said Marusko.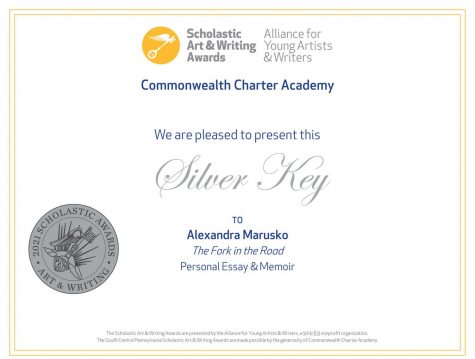 She has her driver's permit but can't remember the last time she drove, using her writing to express her conflict. 
"It's like a mental block whenever I try to drive," said Marusko. "I had ideas of reasons why, so I wrote those down and morphed it into something people could relate to from there." 
Marusko really likes the ending of her memoir for the meaning that it brings to her work when she's standing at a fork in the road and doesn't know what to do. 
Senior Sam Timlin got an honorable mention for his digital art piece, "Repressed." 
Timlin created a self portrait of himself repressing his anger, which he depicted with 'heat.'
"There was no hair – there was just fire," said Timlin.
He also submitted four other projects, and it took him about a month to create everything.
Timlin drew on his phone using a digital art program.
"I think traditional art is sometimes easier, but digitally I feel like I have more range. I can do a lot more with it. If I don't like something, I don't have to worry about ruining the entire piece, I can just hit undo."
For him, the hardest part of the contest was the canvas size since Scholastic has a maximum file size. 
Reagan Gorham, also a senior, received three silver keys in the short story, poetry and memoir departments. 
Usually, winners can go to the state house to see an exhibit of everyone's work, but this year there was a video instead. 
Scholastic's goal is to bring light to talented students and present their work through the competition. 
There are 28 different categories in both writing and art, all of which teens across the globe enter in hopes of silver or gold keys. 
Anyone who wins a silver key or gold key gets a pin to commemorate their achievement. 
If any students are debating whether or not to compete next year, it's a popular belief that they should.
"I say do it," said Marusko. "I mean, you have nothing to lose other than five bucks to submit something. And, you know, the first time I submitted I didn't really expect to get anything, and I got a silver key. You can submit anything you like. You can do any pieces of photography or a painting or drawing, and no one judges."
Likewise, Ricafort enjoys the competitions. 
"I think it's just a really nice experience to see if I could get any recognition for my art, so it was just really fun to do," said Ricafort. 
To learn more about the Scholastic Art and Writing Awards, or to see student submissions, students can reach out to Tim Groth, the other English teachers or visit artandwriting.org.