Winter sports are underway, and all athletes are required to wear masks while competing. 
Each winter sport has different mask and spectator requirements.
Senior Jessia Dauberman has made the adjustment when it comes to wearing a mask while competing in swim meets. 
"I don't mind wearing the mask when we are dry because I know it keeps us one step closer to having a season, but putting a dry mask on a wet face immediately makes it harder to deal with the mask," said Dauberman. "[Not only has the adjustment been difficult, but] it has been hard to bond the team together with all of the distance regulations, as well as not being able to have any sort of get together outside of practice due to social distancing.  We still try to encourage each other to do their best in each race, even if we can't be there physically cheering them on."
The adjustment of wearing a mask is not the only hard part of being an athlete during a pandemic, but not being able to have a regular team atmosphere is also different.
Junior basketball forward Tyler Elliott reflects on the challenge of having no fans at away games and little to no fans at home games. 
"The biggest differences this year are obviously wearing masks, games occurring more frequently and no fans at away games," said Elliott. "Having no fans at away games is difficult because no one, except our team and people on the bench, are cheering us on.  Having fewer fans at home games isn't that different because girls sports already have very few fans, but it is still an adjustment when cheering on your team and not having other supporters there."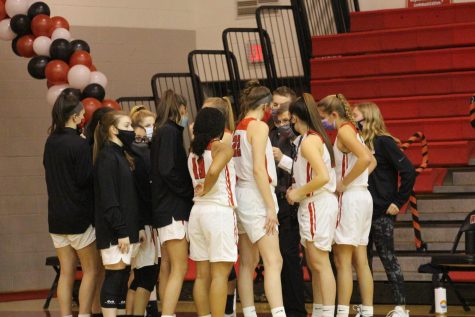 Due to COVID, cheerleading is only allowed to attend home games, for various reasons. 
Junior cheerleader Amanda Kroner is disappointed about the away game situation.
"This year, not being able to cheer at the away games is definitely sad for our team," said Kroner. "I know most of the girls including myself like to travel. We always have so much fun together on the bus rides. We like to see the other cheerleading teams and how they handle games. Plus it gives us a new scenery of a different gym and a different crowd."
Even though cheerleading cannot attend the away games, it is important that they make the best of the situation and have fun at the home games while the season lasts. 
As the season progresses, it can always end abruptly due to the pandemic. 
Junior basketball guard Jalen Franklin keeps his mind positive during this time of uncertainty.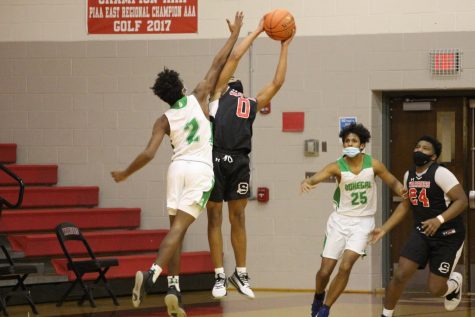 "We just appreciate everyday we have together in the gym, because we never know how much longer we have," said Franklin.