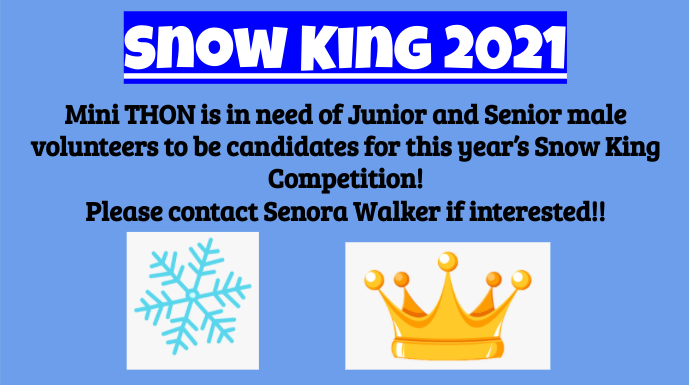 Mini-THON is hosting its annual Snow King competition and is seeking junior and senior candidates.
All proceeds and non-perishable cans and boxes collected during the competition will benefit the Southern York County Food Pantry.
Each dollar and non-perishable food item collected in the boxes in the auditorium lobby will count as a point for the contestant chosen, and whoever has the most points will be announced as Snow King on March 1.
Anyone interested in applying must contact Mini-THON adviser Heather Walker via email by Jan. 29 as no candidates will be accepted after this deadline.
Participants will be asked to submit one Google Slide with their name, their picture, the school activities which they are involved in and why they want to be Snow King to Heather Walker via email by Monday, Feb. 1 and will also need to bring in a decorated box to collect donations with by Monday, Feb. 8.