With COVID-19 still on the loose,  one key physical change in the high school building is how the administration implemented one way hallways.
The new hallways increase the time to get from class to class but add an additional layer of protection against overcrowding and not social distancing.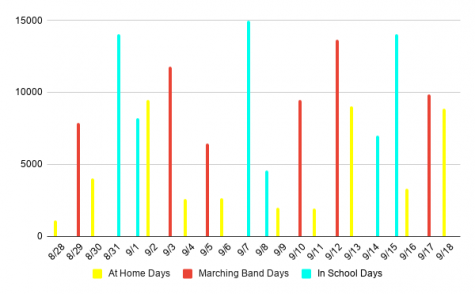 Over the course of two weeks, on Mondays and Tuesdays, I walked an average 10,995 steps in school.
On the chart, to the right, is my step count over two weeks.
On several of the days, I had marching band, which increased my total step count due to the fact that we are constantly moving around.
I then walked an average of 5,580 steps on Thursday and Friday.
The difference between Mondays and Tuesdays versus Thursday and Friday is astonishingly large because of the fact that with the new hallway layout, students will have to walk twice as far to get to a class and at home, there is no need to go from class to class.
View this post on Instagram
What app is best suited for tracking your daily steps? 🏃‍♀️🏃‍♂️🤳 Follow @factshots for your daily fact shots. . . . . . #factshots #fact #162 #dailyfacts #facts #factoftheday #factsonly #factsdaily #didyouknow #interestingfacts #viralfacts #viral #viralpost #instafacts #bestoftheday #instadaily #igers #tracking #mobilefacts #mobilefact #tracksteps #steptracker #steptrackerwatch #device #electronicsfacts #phonetracker #numberofsteps #accelerometer #steprecords #watchyourstep
4 Quick Tips on getting steps at home
Looking at the chart, most of my steps at home were fairly low, so here are some tips to move more at home.
It is recommended to move every hour. If you are working, set a one hour timer and, once it goes off, take a walk. The National Center for Biotechnology Information (NCBI) states that going on a walk every hour reduces blood pressure and further metabolic issues later on in life.
Try and get some more intensive exercise in. Whether it is lifting weights or going on a run, it will get your blood pumping according to NEBH.
Most smartphones these days have a pedometer, which tracks your steps. Try setting a goal, such as 8,000 to 10,000 steps a day and strive to accomplish it.
If you do not have the space nor the equipment, try setting aside time in your calendar for a 1-2 hour session where you can go to a park or the track and run.
View this post on Instagram