Halloween is going to be far different than it ever has before this year.
As the time for pumpkins, costumes and candy nears, citizens grow more eager to break the dreary cycle of COVID-19.
A recent survey hosted by Trey Malone, Assistant Professor of Agricultural, Food and Resource Economics at Michigan State University, revealed that less than 30% of households plan to participate in Halloween activities.
"As we move into the holiday season, our survey suggests that COVID-19 will generate a chilling effect on the fun social activities we all traditionally enjoy during this time," said Malone. "I'm not sure we've ever seen so much uncertainty in our holiday planning this close to the season."
The New Freedom Borough confirmed that trick-or-treating will take place on Halloween from 6-8 p.m on Saturday, Oct. 31.
"Parents should know it is not recommended to wear a COVID mask UNDER a Halloween mask, due to breathing impairment," said the Borough. "Parents should determine and enforce COVID precautions."
Senior Katrice Harrison disagrees with the decision to allow children to trick-or-treat this year.
"I don't necessarily think every Halloween festivity should be canceled, maybe just trick-or-treating," said Harrison. "But people can still get a small group of friends and eat candy and watch scary movies…"
Heather Jankalski is the mother of two Shrewsbury Elementary School children and strongly believes that Halloween participation is a necessary component of October, despite COVID-19.
"I want my kids to participate," said Jankalski. "I think it will be perfectly fine as long as everyone wears a mask and stays 6 feet away from other children."
Sophomore Elena Martin is not opposed to trick-or-treating because of the benefits that it brings.
"We will be outside, some people will even wear masks for their costumes and people don't generally get too close together," said Martin. "We also need to bring an old festivity back to help with mental health."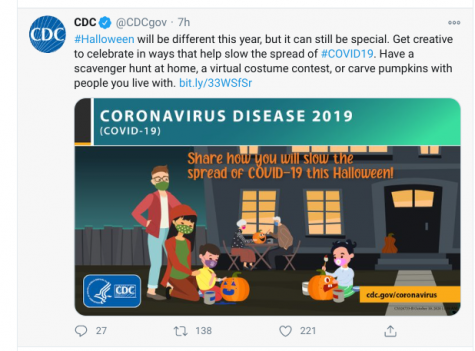 The CDC considers trick-or-treating as an extremely high-risk Halloween activity, but it seems that the choice of whether children will participate or not will be primarily left to the parents.