KC O'Neill
In a mask-ridden world where being unsanitized is frowned upon marching band students are risking their lives to play music without masks while following COVID-19.
Marching band member Audrey Reeves believes that adapting to COVID-19 while marching is an easy process.
"…it's a lot of fun, you kinda get used to the masks and restrictions…." said Reeves.
Christian Poole, director of the marching band, thinks that the band  is adapting to the restrictions easily.
"…we have 45 [members] this year, in the normal year we would have had maybe 15 more," said Poole. "…it doesn't change the overall sound of the group. I don't think that most people notice that."
Poole also explained some challenges that changed how the marching was, including the lack of competitions and interactions with other bands.
"…we have not seen other bands, which is kind of challenging for us, we're used to seeing band shows," said Poole.
The safety of students is a priority for the school, and Poole believes that the marching band is a completely safe space for students.
"Oh absolutely. we wear masks as much as possible…," said Poole. "…we actually put masks on the end of our instrument bells."
The group wears a mask when they are not playing, and percussion and color guard always wear masks.
Junior drum major Joshua Rutters explains that the marching band is doing the best that they can to adapt to COVID standards and  continue to have a well-organized marching band.
"We try to have as much of a sense of normality as we can," said Rutters. "We try our best to make it seem like a normal season. For the most part, we were pretty successful with that."
The safety of all students and staff during COVID is one of the most important things to the school, especially the marching band.
Rutters feels safe in the band's environment.
"Oh, absolutely, we take a lot of time to figure out how we're going to make rehearsals as safe as possible. We take a lot of consideration into the school's COVID guidelines."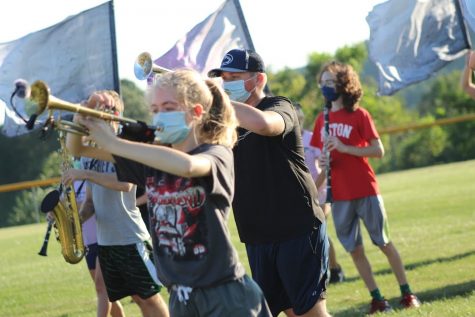 Rutters also covered many restrictions that implied to keep the overall safety of students and staff.
"Temperatures are taken every time before rehearsal," said Rutters, and "[Players] can not eclipse six feet of each other [during a drill]"
Overall Rutter believes that "The big challenge here is wearing masks, maintaining distance… safety."
On Friday, October 30, the band will perform their final show during halftime at the Susquehannock vs. York Suburban football game.
Overall the marching band perseveres through the dangerous COVID-filled world and continues to adapt to changes with incredible ease even with previously unheard of restrictions making their work more difficult.