Hybrid Schedule vs. Digital Academy
October 22, 2020
To stay as close to normal as possible, schools, including our own, have implemented a multi-schedule system to allow students to either go to school two days a week or to stay fully online.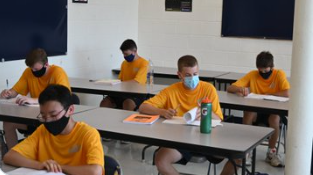 Some students appreciate the change while some dislike the restrictions in place.
Freshman Andrew Hetzer, who attends school physically on the A schedule on Mondays and Tuesdays, doesn't agree with the changes to the schedule.
"I think that the hybrid schedule is not ideal," said Hetzer. "I have noticed that the majority of my difficult classes are in the first half of the year, which would've been nice to change."
The new found flexibility in the schedules leaves some wondering how practical the schedule is for learning. 
However, some students such as senior Amelia Nadobny, enjoy how flexible the schedules have become.
"I like how I can space out my work according to my schedule and how I work best," said Nadobny. "I think it is easier because it's much easier to focus on four classes rather than eight."
"
Personally, I like it better than the regular schedule we had before. "
— Amelia Nadobny
Digital Academy is yet another way to let students learn while staying home. 
Students who partake in these online classes have both praises and regrets about this decision. 
Freshman Chase Eckert likes the convenience of Digital Academy.
"I think that only going to school for two days a week and being online the other three is strange," said Eckert. "My sleep schedule is normal because I do digital and wake up whenever." 
Freshman Abigail Kaiser also participates in Digital Academy and compares it to the classes in the spring of 2020. 
"In the spring, teachers would give us easy assignments, and we didn't learn anything new," said Kaiser. "Now, we are learning topics all by ourselves."