Ben Simmons: Better to Trade than to Keep
Nov. 20, 2019.
Two seasons in the NBA- 172 games. 
Zero for 17 on three-point shooting. 
Ben Simmons would hit his first three-point shot during this game against the lowly New York Knicks.
 The Wells Fargo Center burst into an eruption of screams, cheers and clapping. Simmons's teammates went nuts on the sidelines. 
Some people thought this would be the beginning of an air raid trend  for  Ben Simmons. 
Instead-he has only made one three-point bucket since. 
This is just one of the never-ending problems that will plague the 76'ers, and for the rest of Simmons' career. It also is a perfect example of why the 76'ers need to move on before it is too late.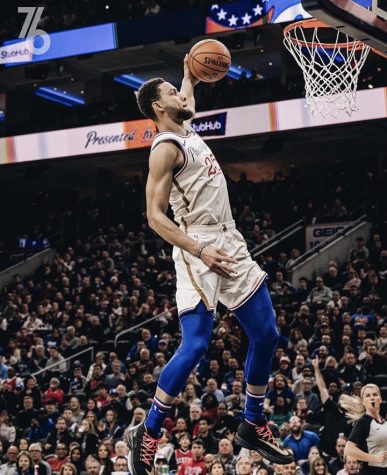 Simmons is a different player. He has the ability to distribute the ball like a point-guard, while also being able to post-up like a power forward. It is widely known that Simmons is very talented and has the potential to do LeBron James type moves. By age 23, Simmons has already made it to the second round of the playoffs twice. His talents are showcased very often. 
The problem with his talents is that there are not enough of them. 
 This year, Simmons ranks 160th in usage at 19.6%. Of all the players he is surrounded by on that ranking, he is the only one who is not a post-player or three and D player. As a point guard, you have to have the ball in your hands. The point guards job is to orchestrate the play. That can not happen when the point guard does not have the ball. When the 76'ers win, Simmons average only grows by .3%. During losses it drops down to 19.1%. Those small fluctuations show that Simmons is consistent. It also shows how little he impacts the game though. He does not dominate during wins, nor does he drop the ball during loses. He essentially does nothing. 
 His shot total average is down from 12.2% a game to 10.8%. For someone who already could not space the floor, he is now taking less attempts. His points are also down from 16.9% to 14.9%. It is not just the long ball either. His offense in general is not really that great for someone who is considered a fringe all-star. Ben simmons is ranked at 107 for shots per game. Most talented teams have at least two players in the top 50, such as Harden and Westbrobrook, Wiggins and Anthony-Towns, and Doncic and Porzingis. These are just a few.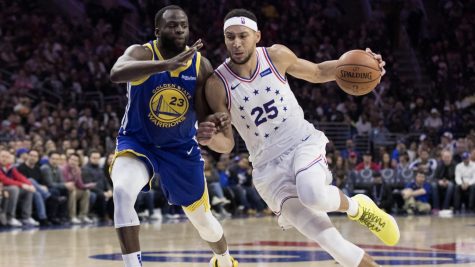 The final reason of why Simmons needs to be traded is because of a very unfamiliar stat- PIE. Not like the food, or the math term, this PIE essentially ranks how important a player is on every play to his team. It ranks both total and average free-throws, rebounds, turnovers, steals and then points  in regards to their worth. Ben Simmons is ranked 40 in overall PIE statistics. When ranked against other guards, he is ranked at 18, and as a forward, he ranks 28. Overall, he is not great at either. Most people think he is crucial on offense as well as defense, but his offense kills his game. Simmons does rank second in assist with 312, but how much does that actually matter when the opposing team does not have guard him. 
 There are three players that Simmons could realistically be traded for. The first option would be Chris Paul. Paul has done a great job in OKC with a roster that was expected to fail. This year, however, they are in the seventh spot in the west with playoff aspirations, thanks in large part to Pauls's play. He would still have the passing skills Simmons does, while also adding shooting and leadership to a team that needs it. Another player who could help shooting is D'Angelo Russell. His assists total is down, but then again his team is awful. With a good team, his assists will pick back up, and his shooting has only gotten better every year. Besides the basketball skills, Russel is also seen as a model citizen, except for the one marriage that he broke up. The third player he could be traded for has not come into the league yet. They trade Simmons for the number one overall pick and select one of the top point guards from this year's draft. That seems the most unlikely; however, the Sixers are right on the cusp and need consistent offense to push themselves over the top.
Everyone likes Simmons. He is a good guy, who plays hard. Unfortunately for him and his team, he will not be the one to bring Philly a title. He is not as good as Joel Embiid, and is not the type of player to make Embiid better either. For that reason, it is time to move on.
About the Writer
Matthew Schwanke, Reporter
Senior Matthew Schwanke is a reporter for the SHS Courier staff. Matthew Schwanke hopes to do some photo journalism this year for the Courier. In his free...