Hozier Presents His Second Album – "Wasteland, Baby!"
Hang on for a minute...we're trying to find some more stories you might like.
The Irish singer-songwriter Hozier is back with his sophomore album, "Wasteland, Baby!" five years after reaching popstar status with a hit single in the mid 2010s.
Hozier first came to fame in 2013 with his hit song "Take Me to Church" which utilizes countless religious metaphors to show his unwavering faith for a female lover and address the church's view on homosexuality.
Referred to by many fans as a god of nature, Hozier grows from roots of atypical love songs designed to emotionally impact the listener.
Hozier's poetic songwriting consistently showcases the darker sides of love and the subtle differences between emotional and physical connections.
Almost all of his songs are about relationships, ranging from songs expressing the destructive sadness of heartbreak, to the emotional bonds true love creates.
His first album, simply entitled "Hozier," prepares the listener for his powerful storytelling.
"Cherry Wine," arguably one of the most well known songs off of his first album, is a dark tale of a female abuser in a relationship; he writes, "The way she shows me I'm hers and she is mine / Open hand or closed fist would be fine / Blood is rare and sweet as cherry wine."
Damien Morris of "The Guardian" has a similar perspective about Hozier's songwriting.
"It's a fair summary of the Irish singer-songwriter's core message: everything's a bit screwed, your faiths may be pointless, but you can rely on me and my endless, occasionally cliched sincerity," writes Morris.
In contrast, his second album takes a more rock and roll tone than his previous folk-driven slow ballads.
The incorporation of poplike bass drums, loud instrumentals and sections of powerful key changes pack a harder punch than the previous guitar and piano heavy melodies.
The 14 track album, accompanied by two songs on "Nina Cried Power – EP," creates a set that is easy to listen to on a long car ride or late at night when the weight of the world is creeping in.
The honest writing is relatable for any listener who has experienced the hardships of love, even without the labels of traditional romance.
The title track, "Wasteland, Baby!" radiates a utopian feel, as he sings about death and destruction in the world around him, contradicting hope and light found in genuine connection.
In this album especially, he pulls inspiration and imagery from nature, which pays tribute to his "nature god" aura described by his followers.
Another solemn love ballad full of this unique imagery comes in the form of the track "Would That I."
Hozier artistically compares a lost love interest to a tree being cut by a saw and his own roots of love being burned with fire.
"True that love in withdrawal was the weeping of me / That the sound of the saw must be known by the tree… Each love I could lose / I was never the same / Watch it's still living roots be consumed by the flames."
He sings of dreams he had for the relationship, and the chorus reveals the passion and heartbreak behind his words.
"Shrike" is another example of Hozier's ties to nature and Irish roots, pulling in Celtic influences and animal imagery. Rachel Wright for "Rolling Stone" writes about the track, "… a Celtic-lilted torch-song, features his sharpest lyricism to date: 'I couldn't utter my love when it counted,' he sings, 'Ah, but I'm singing like a bird 'bout it now.'"
True to Hozier's previous album featuring "Take Me to Church," he takes a stance on a controversial issue.
The first track and name of his additional EP, "Nina Cried Power," chooses to address recent protests that aim to change the political spectrum and protect individual liberties.
The lyrics include the lines, "And I could cry power. Power has been cried by those stronger than me, straight into the face that tells you to rattle your chains, if you love bein' free."
Hozier by name mentions musicians who have supported the fight for civil rights, minority protections and anti-war protests, including Bob Dylan and John Lennon.
Currently, Hozier is touring with his new album in the United States and Australia, spreading his music all over the world.
"Wasteland, Baby!" can be downloaded on Spotify and Apple Music, along with "Nina Cried Power – EP."
About the Writer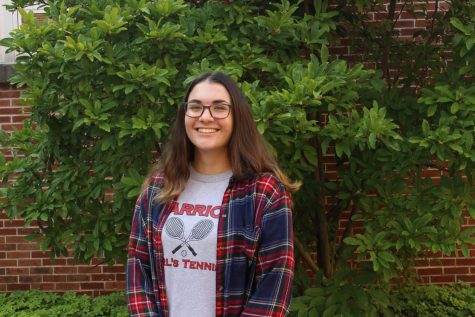 Mia Kobylski, Editor-in-Chief
Senior Mia Kobylski has been on the Courier staff for three years. She plays on the varsity tennis team and participates in Best Buds, Student Council,...