Waterparks Make a Splash in Lancaster
By Anna Feild, Arts & Entertainment/Features Editor
November 19, 2018
Pop-punk trio Waterparks made their Lancaster debut on Nov. 9.
The band, consisting of vocalist and guitarist Awsten Knight, lead guitarist Geoff Wigington and drummer Otto Wood, are from Houston, Texas.
This concert was a part of their North American Entertainment Tour, in support of their most recent album "Entertainment."
"Entertainment" is the band's second album, following their debut album "Double Dare."
The sold-out concert featured openers "I Don't Know How But They Found Me," "Super Whatevr,"  "Nick Gray" and "De'Wayne Jackson."
I was most excited to see "I Don't Know How But They Found Me" because the singer and bassist is ex-bassist of Panic! at the Disco, Dallon Weekes, and I have been a fan of his work for a long time.
I have seen and met Waterparks two other times – August 2017 opening for All Time Low, and July 2018 at the Vans Warped Tour – and they never disappoint.
The North American Entertainment Tour was the first time I have actually seen the band headlining, so I was excited to see one of their shows on a larger scale.
This tour was also the first time that I have ever bought a VIP package for a concert, so I was looking forward to that experience.
The VIP package included a lanyard, signed poster, early entry, a meet and greet and access to a question and answer session with the band.
I was nervous that the meet and greet would be rushed and that I would not have a lot of time to talk to the band, as that is how it was when I met them at Warped Tour; however,  it was not like that at all.
The lack of a backdrop for the picture and just meeting people in front of the stage made the whole experience feel natural and like everyone was just hanging out; nothing felt forced about it.
Every time I meet Waterparks, I am always so impressed at how much they care about their fans and how genuine they are; it is blatantly obvious they love what they are doing.
When I met them this time, I had a big favor to ask – my dad's sixtieth birthday was three days after the concert, and anyone who knows him, knows how much he loves the bands I listen to.
So I asked them to sing happy birthday to him.
They agreed to do it immediately, and they did sing to him later that night; Wigington also gave me a guitar pick to give to my dad.
I have to admit though, that the pick did not make it to my dad; when I first saw Waterparks open for All Time Low, Wigington threw a pick at me, but it bounced off my hand and the person in front of me got it-so it really meant a lot to me that I finally got one.
After the meet and greet ended, everyone got into the spots that they stood in for the entire concert, and the band did a short question and answer session that featured a long ghost story told by Knight.
De'Wayne Jackson was the first opener, and I was taken by surprise by his set.
I am not usually a fan of rap, but his stage presence and energy were contagious. I found myself really enjoying his music.
After him, Nick Gray performed; Gray is also a rapper, but his lack of enthusiasm caused me to not be a fan.
His photographer was on stage with him, and he had more energy and passion about the music than Gray himself, causing him to be the only enjoyable part about Gray's performance.
Super Whatevr opened next, and needless to say, I was excited to finally see actual instruments being played on stage.
Since the concert, I have become a big fan of Super Whatevr; their sound is the epitome of pop-punk and alternative rock, which I love about them.
My anticipation grew as I Don't Know How But They Found Me took the stage; it was obvious they were the crowd favorite, as almost everyone knew them and sang along.
They were a hit with everyone in the crowd, including parents – my mom sent a text to me about a minute into their set that said, "Love these guys!!!"
Finally, after the four opening acts, it was time for headliner, Waterparks, to take the stage.
As soon as they played the first chord, the crowd's energy was insane – not a single person was not jumping and singing along.
The band's setlist included every song on "Entertainment," except "Crybaby," and other older favorites.
Though I loved every song they played, my favorites were "TANTRUM" and "What We Do For Fun."
"TANTRUM" is by far the band's angriest and heaviest song; I saw them perform it at Warped Tour, but I was towards the back of a massive crowd and not get into it as much as I wanted to.
This time, however, I was in the third row and experienced my first legitimate mosh pit.
Knight also stage-dived directly onto me during the song, which was cool for me but not for my friend, as he accidentally kicked her in the face.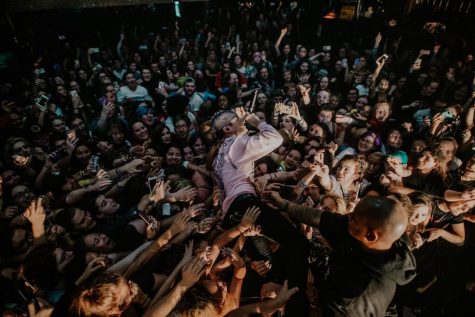 "What We Do For Fun" was released on the Japanese version of "Double Dare" and the band rarely acknowledges it.
However, it is one of my favorite songs, so I loved finally being able to hear it live.
This concert was the tenth one I have ever been to, and it was my favorite by a landslide.
I do not think I have ever had more fun at a show than I did that night – between being so close to the stage, making a bunch of new friends, experiencing the intense crowd and the extremely talented bands and artists- it made waiting outside in the pouring rain and cold and standing for eight hours totally worth it.
About the Contributor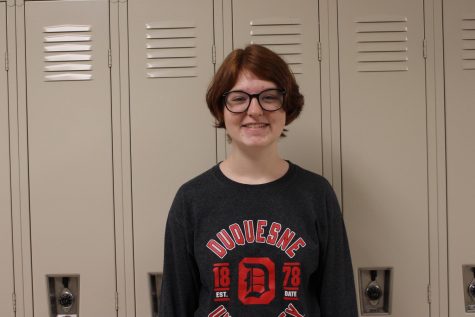 Anna Feild, Arts & Entertainment/Features Editor
Senior Anna Feild is the Arts & Entertainment/Features editor this year. She is excited to help fellow Courier staff members while also working on...