"Bohemian Rhapsody" is an upbeat musical drama that allows the audience to  experience the band Queen's songs as if they were in the front rows of a concert.
The audience also gets a behind the scenes look of how Queen made some songs, challenges they faced along the way, high points of the band and much more.
"Bohemian Rhapsody" could be compared to other musical dramas, but the intense mood and  rambunctious tone are incomparable.
The film came to life thanks to Anthony McCarten writing it.
Trying to incorporate most of the bands hit songs, along with key information that develops the story, creates a two hour and thirteen minute runtime.
Some may think that the runtime is too long; however, those that appreciate the long uplifting songs and the story that leads to each one, will appreciate the time taken to create "Bohemian Rhapsody."
MPAA rated the film PG-13 which most can agree on.
Although, there are some sexual situations and drug use that aren't family friendly.
The 2018 film utilized a $52 million budget.
On opening weekend it grossed over $155 million with $12.5 million from the UK.
Awards are out of question at the moment, but Rami Malek's, actor who plays Freddie Mercury,  performance may be Oscar worthy.
Bohemian Rhapsody scored 62% by Rotten Tomatoes,which is too conservative of a review, along with a score of 84% by over 62 thousand IMDb voters.
The film did an appreciable job showing the audience Mercury's rebellious behavior toward his family and culture as a Tanzanian native living in the UK.
The film even went to show us his love life and losing his then fiance, as he comes out as bisexual.
Without a doubt, Malek exhibited Mercury's persona very well, showing us how unique he was-even down to his teeth.
During the filming for the movie, Malek wore fake teeth that protruded from his mouth.
While the film was still developing the story and while Mercury is trying to join the small band, now known as Queen, he faced criticism from drummer Roger Taylor.
Mercury explained the advantage of having them and even showed off his voice in the scene.
Actor Brian May, who played guitarist Gwilym Lee, was interviewed by Corey Chichizola for "How Queen Feels About Rami Malek Portraying Freddie Mercury in Bohemian Rhapsody."
"We kind of saw Freddie in him, and we could sense Rami's passion. The first time we saw him was actually in Roger's flat. It must have been horrible for him, having us watching him for the first time. But we were really blown away by him and his ability to perform— he's incredible," said May.   
The main cast had to actually audition in front of Queen band members, and Malek did not come up short.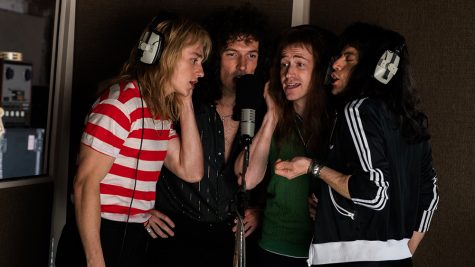 As for someone who enjoys classic rock and likes Queen's music, appreciating their music is easier now knowing the struggles they faced along their journey before becoming one of the greatest rock bands of the 70's.
The movie respectfully shows the band's journey starting from Freddie meeting Roger Taylor and Brian May in the parking lot of a bar after a show to Mercury performing at Wembley Stadium.
Queen's fame is not short lived; today they still receive awards, and now we have a new medium to celebrate them – "Bohemian Rhapsody," the movie.