Connor Coggins Speeds through States
Nov. 3 was a big day for senior Connor Coggins when competing at Districts at Big Springs.
Coggins ran really well and was able to claim a spot at states after finishing with a time of 20:12 and placing 22nd.
"To be part of the cross country team is to be part of a crazy family of runners. I love my team, and they are a huge part of the joy involved in the sport of cross country," said Coggins.
In order to prepare for this big event, some of her teammates continued running at practice with her and even accompanied her to states to cheer her on.
Coggins put a lot of effort into preparing for states; a lot of chicken nuggets were consumed.
"In order to prepare for states I carb loaded by consuming seventy-two chicken nuggets from Wendy's with the help of five teammates. A big part of preparing for states was just running well in practice because it is just another race that you have to run your hardest in," said Coggins.
Although the weather was cold and the running conditions were poor, Coggins pushed through it all and finished her race at states with a time of 20:52.
"States was extremely fun. My favorite part was crossing the finish line and having the whole race behind me. Afterwards I was given free chocolate milk, so that was also a plus. I also greatly enjoyed hanging with my team as always," said Coggins.
Not only did Coggins run really well, but Messiah College came up to watch her run.
"The meeting with the coach from Messiah College went very well. He was very kind, and we just spent some time getting to know each other," said Coggins.
Coggins plans to continue her running career into college no matter where she goes.
"I plan to run cross country and track in college wherever I go because running is an extremely fun sport, and it is one of my favorite things to do. It helps you to be physically and mentally tough, and you can always get better at it," said Coggins.
Coggins had a great season and enjoyed making all the meaningful friendships in the process.
"I have been running for about eleven months," said Coggins of her short career as a runner.
Cross Country may be a difficult sport, but Coggins made it look like effortless coming in 74 out of 228 in the AAA girls race. Her time ranked her 118 out of a total 658 girls that ran at states in all three races.
About the Writer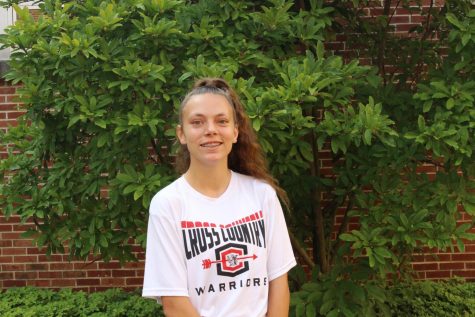 Kylee Galante, Reporter
Junior Kylee Galante is a first-year reporter who is interested in covering sports. She enjoys running and is part of the cross country, indoor track and...