Photo by Anna Feild
When asked to name a rock band with at least one woman in it, most either think of Paramore or cannot name one.
Contrary to popular belief, there are more bands with women in them than just Paramore, but it would not be known due to the lack of opportunities they have compared to their male counterparts.
Even though Paramore deserves the fame and attention they receive, other bands with women deserve the same popularity.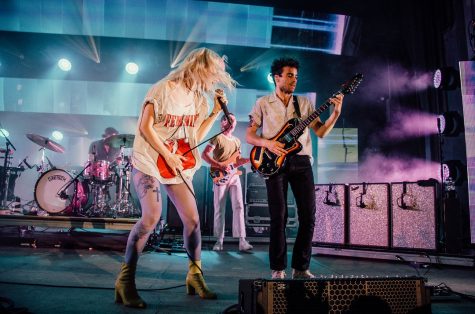 A great example of an extremely talented band who is simply not given the same opportunities as men because they are women is Doll Skin.
I had the pleasure of seeing this group play on the final Vans Warped Tour in July and was blown away by their talent.
However, almost no one in the crowd knew them before seeing them play because they are not promoted as much as male bands.
After meeting Doll Skin, I got to say that I met half of the women who were on the Warped Tour lineup; there was a total of eight in four bands out of all 68 bands.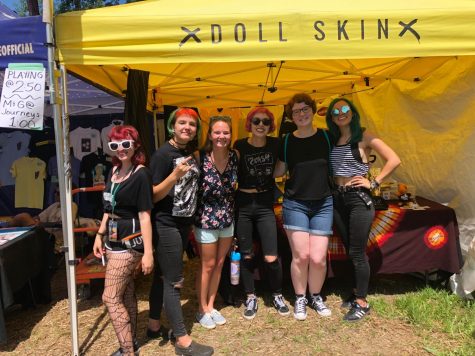 Doll Skin also contributed the only female musicians who were not singers on the tour.
It is ridiculous that music festivals are not trying to book more women on their lineups.
Many say that it is because there are simply more men in bands than women, but this is not true; the media just chooses to acknowledge male musicians instead.
In a new study from guitar manufacturer Fender, it is revealed that women make up 50 percent of new guitar players in both the United States and the United Kingdom; this increase is still not being reflected on different tours.
Additionally, the Annenberg Inclusion Initiative released a report that contained concerning statistics about the lack of women in the music industry.
The report stated that in 2017, 83.2 percent of artists were men and only 16.8 percent were women, and the year was a six-year low for female artists in popular content.
Not only did the statistics show that there was a distinct lack of female musicians, but they also show the lack of women behind the scenes of the industry.
The report stated that only 12.3 percent of 2,767 songwriters credited were women, and that only two percent of the study's 651 producers were female.
There is also a toxic culture created by the casual sexism of men in the music industry.
A prime example of this is the band Makeout, who played the final Vans Warped Tour.
The band, consisting of all men, have a song called "Secrets," which contains explicit lyrics belittling a former girlfriend who cheated.
After being told that the lyrics were misogynistic and harmful, Makeout was asked by Warped Tour founder Kevin Lyman to work with the organization A Voice for the Innocent, which helps survivors of sexual assault share their story, to see why the lyrics are an issue.
The band promised that they would not play "Secrets" on Warped Tour because they saw how the lyrics were problematic, but they went back on this promise on the final date.
They waited until the last date to do this because they knew that they would not face any repercussions for their actions.
Makeout took to Twitter to release a statement that essentially said that they were not sorry for playing the song, and many women were not impressed.
Nicole Rich, the bassist of Doll Skin, was one of these women.
She addressed the situation with a tweet that said, "respecting women….. is not hard," but she was not done yet.
Rich said in another tweet, "your fanbase is made up of teenage girls and you feel comfortable playing a song using derogatory words towards them. being cheated on doesn't give you that excuse, do better."
These tweets echo the sentiments of many women, as these events are just an example of casual sexism and misogyny that they face every day.
As a woman myself who wants to become a tour manager, I have to prepare myself for the casual sexism I will face in my career, which has already begun to  happen.
My friend was having a conversation with her mother about careers her friends want to pursue and told her that I want to pursue the music business and be a tour manager.
To this her mother said, "Oh, she wants to be a professional groupie."
I should not have my passion belittled to that just because I am a woman.
It is time to give females in the music industry, not just musicians, but also those fulfilling roles behind the scenes, the same opportunities and promotions as their male counterparts.