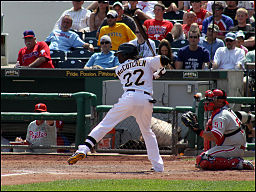 By:Mr.schultz (Own work)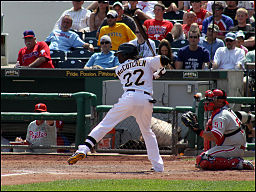 McCutchen battles in St. Louis. By Mr.schultz (Own work) [CC BY-SA 3.0 (https://creativecommons.org/licenses/by-sa/3.0)], via Wikimedia Commons
The franchise centerpiece for the Pittsburgh Pirates baseball team, Andrew McCutchen, was traded to the San Francisco Giants as a right fielder. McCutchen was traded for right-hand-er Kyle Crick and outfield prospect Bryan Reynolds, along with cash considerations. In the eyes of baseball analysts and fans, the Giants walked away with the win on this trade. This move strengthens the Giants already solid outfield with another All-Star outfielder Hunter Pence.
Gerrit Cole pitches on the mound. By Johnmaxmena2 (Own work) [CC BY-SA 4.0 (https://creativecommons.org/licenses/by-sa/4.0)], via Wikimedia Commons
Another move that the Pirates made was trading pitching ace Gerrit Cole to the Houston Astros. Cole has been one of the better pitchers in the last few seasons. Cole joins an already stacked bullpen that includes former Cy Young winner and MVP winner Justin Verlander, and former Cy Young winner Dallas Keuchel.
Superstar Oriole third-baseman Manny Machado had been a hot topic going into the offseason. Baltimore fans did not know if he was going to be traded or not. Machado was expected to go to the New York Yankees or to his hometown Miami Marlins. Despite all the trade talks, Machado signed a year extension worth $16 million to avoid salary arbitration. Even though Baltimore's hero re-signed, trade discussions are still hot. The latest team discussing trades for Machado are the Cleveland Indians.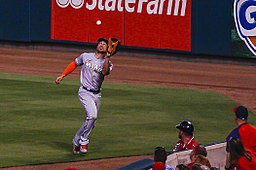 Outfielder Giancarlo Stanton made the huge move to the New York Yankee pinstripes this off-season. This crushed Miami Marlins' fans hopes and dreams, as their star player was ripped away from them by arguably the most controversial franchise in baseball history. Stanton is joining fellow slugger OF Aaron Judge. Stanton and Judge led the MLB in home runs last season. Stanton had 59 to Judge's 52. Stanton is joining a young team with a lot of potentials. This trade creates an absolutely stunning lineup for the Yankees and for sure makes them top contenders in the American League and even the Commissioner's Trophy.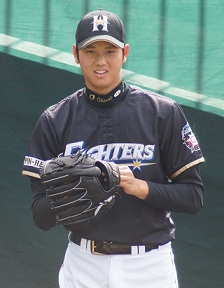 23-year-old right-handed ace and left-handed slugger from Japan Shohei Ohtani signed a deal with the Anaheim Angels. Ohtani is dynamic being skilled at both pitching and batting, which is a rarity in today's game. The best hitting pitcher is Madison Bumgarner of the San Francisco Giants who only hits 4 to 5 homers every season. Ohtani is expected to hit about 10 or more homers this upcoming 2018 season. Ohtani joins superstar Mike Trout and veteran Albert Pujols, which could lead to a monumental playoff push.