T.V.D. Season Finale: Spoilers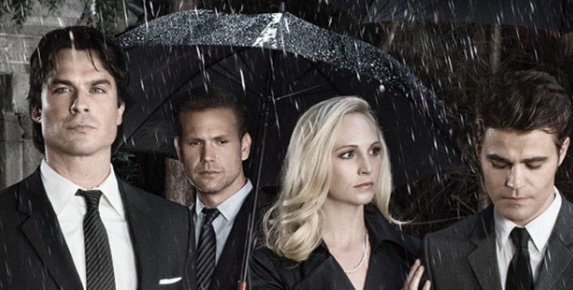 Hang on for a minute...we're trying to find some more stories you might like.
The final season of The Vampire Diaries was nothing short of exceptional. Of course, with any vampire-related show comes massive amounts of bloodshed. However, there is so much more to The Vampire Diaries than that stereotype. The final season delivered drama, death and romance, wrapping the show up in a way that could not have been better.
This was the end. Caroline got married to Stefan, Damon and Enzo were rescued from their sire bond and Elena came back to life. After watching all eight seasons, this was by far the most emotional, as I felt as though I grew up with them.
Watching beloved characters die was the hardest part of this season. Naturally, there were a lot of deaths, as vampires are bred to kill. With Damon and Stefan forced to turn off their humanity, this resulted in many deaths, with the two most relevant being Enzo and Tyler Lockwood. Bonnie Bennett finally had her chance to spend her life with Enzo, her love, when Stefan came and took that away from her. His death was an unexpected and shocking one. With Enzo and Tyler being part of the show since Season 1, it was hard to say goodbye.
The hardest death to accept, however, was the death of Stefan Salvatore. Stefan was, hands down, one of the most genuine characters in the show. He proved vampires can live a normal life without killing. He went to high school, saved lives, fell in love and saved his friends- even if it resulted in his death. Risking his life for his brother one last time, Stefan willingly allowed himself to get blown up inside a cave so Damon could spend the rest of his life with his love. I was so surprised with the director's decision to kill him off, as he was a main character, but, at the same time as it was heartbreaking, it gave the show just the amount of edge and excitement it needed.
Besides all of the crying, I certainly wore a smile on my face quite often. Although the last few episodes were filled with devastating moments of goodbyes, there was definitely no shortage of cheerful moments. Caroline Forbes finally got to marry the love of her life, Stefan, after waiting for quite some time. Her happiness with him was so pure, and it felt refreshing to see them end up together. However, I would have also liked to see Stefan and Elena end up together, as they have been best friends and lovers since the first season. With either outcome, I would have been happy.
Kai Parker, one of the evil characters, also returned from the dead. It created such chaos and drama, and no one was
sure how he came back and why. He killed a few people and cracked some jokes, as his appearance did not last long. Chris Wood does an exceptional job playing Kai's role in a very humorous, yet serious way, making him one of my favorite characters.
One of the largest and most anticipated moments of the show occurred when Elena Gilbert came back. After real life actor, Nina Dobrev, wanted out of the show, it was not the same without classic Elena. Willing to come back one final time, Elena woke up from an enchantment placed on her in the final episode. She was able to see her friends and be back with her boyfriend, Damon. She saw Stefan one last time before he passed. Her return surely made the final episode a fantastic season finale, as it tied all loose ends and made the show really come together.
The way The Vampire Diaries came to an end was extremely important. During the flashforward, it focused on the dead characters. Although that sounds harsh, it showed that after everything they have been through together, they are finally at peace. Elena reunited with her family whom she has not seen in years. Caroline was able to see her mom again. Bonnie finally was able to have her life with Enzo and see her mom again also.
Also, during one of the final moments, Alaric told another character, "But that's a different story," leaving me with the thought that the "story" could lead to a continuation of the show at a later time. Even though it was such a small cliff hanger, it was enough for me to have hope that I will be able to watch a reunion with these beloved characters.
But, the last 10 seconds of the show is what really got to me. Damon and Stefan were reunited, as Damon knocked on his door and said "Hello, brother." His voice was calm and happy, and the way it was said gave me the chills. With their brotherly bond so strong, it was the perfect way to end the show.
I guess you could say Season 8 of The Vampire Diaries was amazing. It filled me with emotions I did not know existed, and I could not be happier with how things ended.