Seniors Look Forward to Graduation
Hang on for a minute...we're trying to find some more stories you might like.
  The new year is here, and while many people are making resolutions and planning for the upcoming year, the class of 2017 has their minds focused on one thing: graduation. With only 6 months to graduation, many seniors have been hit with the dreaded senioritis epidemic and have lost motivation to do school work.
  Ten seniors were asked why they are excited for graduation and if they have senioritis, and here are their responses:
  "I'm excited for graduation because my graduation gift is that I get to go to Europe. I'm going to Norway, Sweden, Denmark and Iceland. It's going to be really fun," said senior Hailey Miller.
  "I've had senioritis throughout the year, but it hasn't really hit me. I haven't really been excited to graduate because of all the responsibilities that come with it. However, after winter break, I definitely have senioritis," said senior Isabel Barbera.
  "I'm excited for graduation because I've always been the type of person who doesn't really like high school and I think college will be better for me. I do have major senioritis and what I do to cope with it is I think about what it would be like to fail and that usually pushes me to do better," said senior Stephanie Gardecki.
  "I want [to graduate so I can] go to college, so I can finally get to my job in the future. I will have a lot of money and have a nice house. I'm pretty sure senioritis hit me on the Monday before we came back to school," said senior Zach Robinson.
  "I'm excited to graduate because I really want to go to college and meet new people. I do have senioritis. I usually try to cope with it by telling myself, 'C'mon Kaila, there's only a few more months to graduation. You can do this," said senior Kaila Taylor.
  "I'm really excited to be able to start the next step of my life and that starts in the fall of 2017 at college. I do have senioritis, and I'm coping with it by just trying to keep my grades up at all times, and I'm just trying to get through it," said senior Rachel Sergent.
  "I'm excited for graduation because it will mark the beginning of a new chapter in my life. I'll be able to start college and meet new people. I don't think I have senioritis because I'm still worried about keeping my grades up, so colleges don't think I started slacking just because I was accepted," said senior Brittany Roberts.
  "I'm looking forward to starting a new season in my life and discover what else is out there in this wonderful world of ours. During the summer, I will be going to Germany with my friend Lina Waterstradt. I have mad senioritis. I have an 8 to 10 page research project due on Wednesday, and I have yet to do the vast majority of it," said senior Patrick McDonald.    
  "I am excited for graduation because it is what I have spent my entire high school career working towards. It's the big moment. I, like many other kids in my grade, am experiencing senioritis. I am coping with it because I know that I want to leave high school with a strong GPA. I did not work this hard to slack off at the final stretch of the race," said senior Gabee Ogude.
  "I'm excited for graduation because it's the start of my life as a young adult and the reaching of one of my goals. I do have senioritis, and I cope with it by reminding myself that I'm just trying to graduate," said senior Sydney Delpi.

About the Writer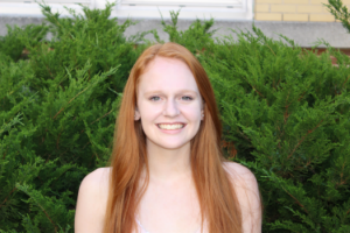 Emily Rivers, Assistant Editor-in-Chief
Senior Emily Rivers has been on the Courier staff for two years. As well as being involved in the school's news website, she is a member of the yearbook production staff, National Honor Society, orchestra and choir. Outside of school, she is an active member of her church, Shrewsbury Assembly of God. She hopes to major in public relations in college and become an event planner.