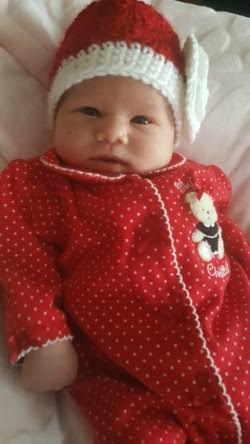 Math teacher Kori Eisenhart is a favorite of many students, so her students were quite sad when they found out she was leaving for the rest of the year to care for her newborn baby.
  Freshman Natalie Thomas was shocked to hear that Eisenhart would not be teaching the rest of the year.
  "Mrs. Eisenhart was by far one of my favorite teachers, so I'm really going to miss her. The long-term substitute seems nice though, so hopefully I [will] like her, too," said Thomas.
  Freshman Nadia Mock felt disappointed when she heard Eisenhart was leaving.
  "I'm really sad that she is leaving because she's such a nice teacher! I wish that I could've had her for longer," said Mock.
  The big question of many students was, "What is the baby's name?" Eisenhart left all of the students guessing. She gave them the initials, which are M.N.E, and they proceeded to try and guess the name.
  Thomas was wondering what the name was and kept guessing until she finally found out.
  "I was curious, so a few days before Mrs. Eisenhart's due date I asked her what her baby's name starts with. She said it starts with an M. I had suggested names like Madison, Miranda, and Mary, but never expected Meredith, which I
found out from Mrs. Slemp a few days after her baby came," said Thomas.

The baby's full name is Meredith Noelle Eisenhart.
  "We wanted a unique name that wasn't too strange. Meredith sort of hit me when I was watching Grey's Anatomy one night. We chose the middle name of Noelle because it means "Christmas," and her birthday is close to Christmas," said Eisenhart.

  Currently, Eisenhart and her baby are both doing well at home.
  "She is doing great, adjusting to the newness of everything! Her 3-year-old sister, Delilah, is in love with her and is truly enjoying being a big helper for Mommy and Daddy," said Eisenhart.
  One would expect that if someone was pregnant, they would take off work when they got close to their due date. However, Eisenhart taught right up to the day her baby was due.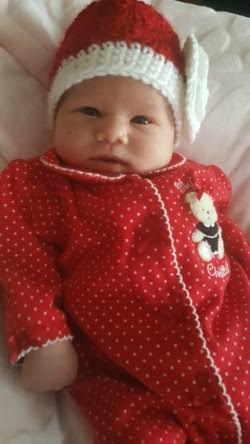 "Near the end of my pregnancy, it was very tiring working all day, especially being on my feet. But I wouldn't have done it any differently… I wanted as much time as I could with my students," said Eisenhart.

  Theresa Slemp, the long term sub, is going to be taking care of Eisenhart's classes while she is gone. Eisenhart feels that her classes will be in good hands.
  "Mrs. Slemp and I were fortunate to have 2 days together to go over everything and anything, in an attempt to make a smooth transition. Plus, my students are great, with or without me," said Eisenhart.

  Despite missing a large amount of time teaching, Eisenhart is glad she took the time off.
  "While I will miss all my students, I am so grateful for this precious time with my daughters," said Eisenhart.