Artist of the Week: Dana Harpster
Hang on for a minute...we're trying to find some more stories you might like.
The shades of magenta, burnt orange and amber of the sunset each night are a reminder that art can be found everywhere. The earth is full of art, but it takes a creative soul to take what is seen by the average eye and transform it into something bigger.
  One such soul is senior Dana Harpster, who is inspired by the people and the world around her.
  "If there is a really pretty picture of someone, and I'm like 'wow, that person is gorgeous,' then I draw them or I paint them. If I like the color scheme, that inspires me," said Harpster.
  Harpster has been interested in art since the 4th grade, starting off by copying pictures of anime characters and has since improved remarkably. Art teacher Wesley Myers has helped Harpster during her career in high school by teaching her various skills and introducing her to new mediums.
  Senior Sharon Nelson has known Harpster since elementary school and has seen her progress as an artist over the years.
  "It's progressed a lot- I pretty much got her into art in elementary school, and she went from copying anime characters to expanding to real life people and shading," said Nelson. "She also progressed a lot with mediums. At first, she just stuck to pen and pencils, then water color but recently she's gotten really into oil paints, which she's amazing at. And, of course, because she keeps practicing all the time, her actual ability has improved a lot."
  Nelson believes that it is Harpster's fearlessness to try new things that allows her to stand out from other artists.
  "Dana stands out because she's not afraid to try things-mediums specifically. For her project to turn in for a college scholarship, she just decided to go out of her comfort zone to do a clay sculpture with foil elements, both of which she either never used or barely used before," said Nelson. "And of course the way she draws. Once you see one of her drawings, you see all the similarities in her other ones, like body type and subject matter."
  Senior Isabel Barbera, a fellow art student and close friend of Harpster, admires her ability to create artwork that is realistic and creative at the same time.
  "In art class, she's definitely created a lot of beautiful pieces. I know that some of my favorite pieces from her are her oil paintings. She does a really good job with those. She always adds vibrant color to it, and she always makes it look not just realistic, but [it's also] creative," said Barbera.
  Harpster is planning on pursuing a career in art and is currently looking at Kutztown University as her potential future home.
  "I didn't know I was gonna look at… [art] as a career, but it's always been my biggest hobby, my greatest interest. Right now I'm working on getting my portfolio together," said Harpster. "I'm looking into being an art therapist right now, but that's not definite. If I could, I would just be going into fine art."
  No matter where Harpster decides to go to school or what major she chooses, one thing will remain true: her love and dedication to art is an inspiration to the people around her.

About the Writer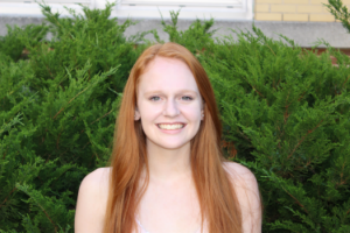 Emily Rivers, Assistant Editor-in-Chief
Senior Emily Rivers has been on the Courier staff for two years. As well as being involved in the school's news website, she is a member of the yearbook production staff, National Honor Society, orchestra and choir. Outside of school, she is an active member of her church, Shrewsbury Assembly of God. She hopes to major in public relations in college and become an event planner.