Students Find Success at District Choir Auditions
Junior Brendan Paules and senior Julien Sherman were recently chosen to perform at Districts after auditioning on October 29 at Central York High School for the Pennsylvania Music Educators Association (PMEA) District 7 Chorus.
The festival for districts will take place January 13-14, 2017 at Eastern Lebanon County High School.
Having been involved with district band, orchestra and chorus, Sherman feels that the opportunities PMEA provides allows students to further their interest in music through a positive environment.
"For people who want to major in music when they go off to college, PMEA provides an amazing experience for what they want to do," said Sherman. "For people who just want to do music as a side, I'd say that the experience in general is something worth auditioning for."
While at the festival, students will have the chance to meet with other teenagers who share their love for music and will also put on a concert with guest conductor Dr. Ryan Beeken. Beeken is currently director of Choral Studies at Indiana University of Pennsylvania and also has experience teaching grade school music for 16 years.
Although he did not make it into district chorus last year, Paules made it into all-state vocal jazz as a sophomore.
Having done so, Paules learned adaptable tips from this experience that now can be applied to districts.
"Always come prepared with new music, know the music really well and just have a positive attitude towards it regardless of the outcome," said Paules. "Just enjoy the experience and get to know those people who are all really talented and all love the same thing you do."
After teaching him in private voice lessons, choral director Jay Althouse has seen Paules' progression between last year's audition for districts and this year's.
"I think it's just a nerves thing. He did really well. He was only three points away…so I think the second time around he knew the process," said Althouse. "When you know the process you can just say 'okay I got this' and approach it in that way. Plus I think making it into all-state vocal jazz made him think 'okay I can do this. These are the best singers in the state, and I can do it, so therefore I can do district 7.'"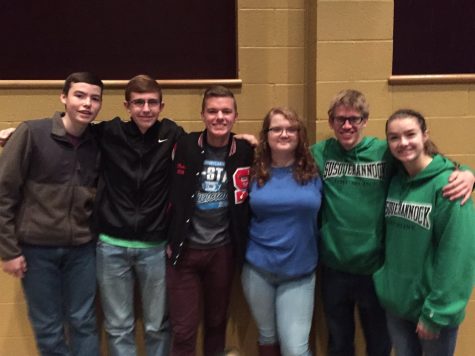 As the location of it changes every year, the PMEA District 7 Chorus Festival will be held at Susquehannock High School in 2018.
Althouse is ecstatic to show others what the music department is like.
"I'm excited for people to come to our school to see what we offer here," said Althouse. "Hopefully we have even more people make district chorus next year, so we can have a good number but I'm just so ready to show everybody what Susquehannock has."
About the Contributor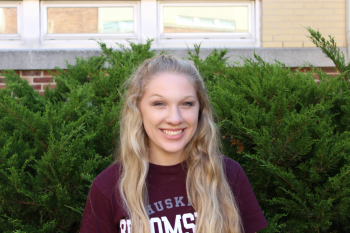 Logan Garvey, Editor-in-Chief
Senior Logan Garvey, a third-year Courier reporter, is editor-in-chief of the publication. At Susquehannock, Logan is also a part of the cast and crew...