NHL Season Causes Rivalry Between Teachers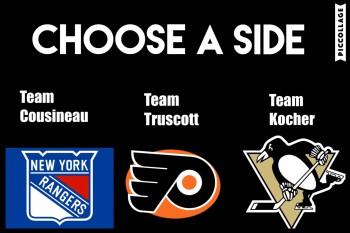 Hang on for a minute...we're trying to find some more stories you might like.
 With it only being three weeks into the eight month long NHL hockey season, hockey loving  teachers have engaged in their regular team rivalries.
 History teacher Abby Kocher loves how the Pittsburgh Penguins have won their fourth Stanley Cup last season against the San Jose Sharks in an exciting final series.
 "Having bragging rights for a whole year is good for me," said Kocher.
  Teams that the Penguins had to beat to get to the cup included: the New York Rangers, the Washington Capitals, the Tampa Bay Lightning and the San Jose Sharks.
  Fellow history teacher Robert Cousineau is a New York Rangers fan and is not fond of Kocher's Penguins due to the fact that the Penguins beat them in the race to the cup.
  "There is nothing that gives me more satisfaction than when they beat the Pittsburgh Penguins," said Cousineau.
  Cousineau thinks that his favorite player, goalie Henrik Lundqvist, will be able to shut out several of Penguins Captain Sidney Crosby's goals, who happens to be Kocher's favorite player.
 "Two words: King Henry. That's all we need because nothing gets past him," said Cousineau.
 Goalie Henrik Lundqvist has been on the Rangers' team ever since he was drafted in the year of 2005.
  In his eleven years of playing Lundqvist has made a total of over 19,000 saves.  
 Physical education teacher Doug Truscott is also a huge Philadelphia Flyers fan.
 "I am a die heart Flyers because they won two Stanley Cups when I was a kid," said Truscott.
  Truscott also mentioned how he has his own rivalry with fellow gym teacher Anthony Sorice.
  "Mr. Sorice is a Penguins fan, and you know how the Flyers dominate the Penguins usually. So we've had quite the rivalry going on," said Truscott.  
  The Penguins and Flyers typically play four games a year, two at home and two away.
  Due to the fact that both teams are celebrating their 50th anniversary of the team, one of these games will be played outside in the stadium of the Pittsburgh Steelers.
  With the Penguins also having just recently beaten the Flyers, Truscott has not been happy with the performance of his team.
  "They show signs of greatness but cannot execute," said Truscott.  
  All three teachers are looking forward to a great hockey season and are hoping to earn their bragging rights for either beating each other's teams in a game or possibly taking home the Stanley Cup.