Band Night Called a Success
  Band night was a success for the marching band who partnered up with the Southern Middle School band in an outstanding performance during a Friday night football game on October 7.

  From practices in the band rooms to one big practice out on the field, the students all worked as hard as they could to make this night an exciting experience. For middle school students, this may have been one of their scariest moments in their middle school career, but also one of the most exciting.
  Band director Chris Poole believed that the students were going to put on an outstanding show.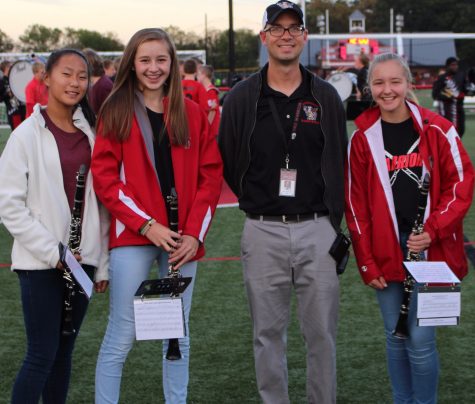 "The students are definitely ready. I think there is more excitement there than nervousness," said Poole. "It's going to be fun for all of them and a great experience that shows them how to be a great performer. I think this show is going to be a big hit."
  As the performers walked out on the field, the crowd in the stands went wild. The drum line was one of the biggest hits of the night.
  With their outstanding bass and snare drummers from both the middle and high school, 18 drummers were lined up across the field that night giving it their all.
  Senior and drum line leader Julien Sherman, felt excited and honored to work with the middle school students during this special event.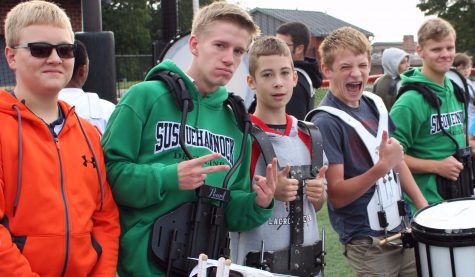 "I ended up making a lot of new friends through Band Night out on the field. I could tell how excited everyone was to perform," said Sherman. "I can tell the Susky's marching band is still going to be one of the best marching bands around when these students come up to play for it."
  Students in the high school have learned to prepare for these kinds of performances. They had to learn to be leaders and show the middle schoolers how to put on a great show, but the leaders are not all music.
  The marching band involved the color guard to perform with them.
  Senior and color guard captain Destiny Rositzky talks about how fun it was to work with the middle schoolers and how it was a privilege to be like a leader to them.
  "Being flag captain and having them watch me for counts and take instructions from me and learn from me was awesome," said Rositzky. "It gives you a certain feeling when you have to be a leader in color guard and eventually pass your job down to someone else is just the best feeling in the world."
  Band night was a fun and exciting night for students with the staff and the crowd watching them. Students were able to learn new things from each other and become their own leaders.
  Middle school students are very excited to begin their high school journey with the marching band.
   The next Band night performance will occur in the upcoming 2017 school year with new leaders and the next group of marching band students ready to perform.
About the Writer
Autumn Polanowski, Reporter
Senior Autumn Polanowski is in her first year of The Courier's staff. She is very interested in giving advice to her peers through her writing and by showing...