At just 16 years old Kendel Abrams was registered as the lowest score of the day with an even-par of 71 at the York Junior County Junior Golf Association.
As of July 2016, Abrams took on other competitive girls ages 18 and under in a golf competition at Hickory Heights Golf Club, near Spring Grove, Pennsylvania. Abrams was happy to have won her first YCJGA that summer.
Being only a junior in high school, this is a very exciting time for Abrams.
"It was great. It was my lowest score of all time. Definitely a moment to be proud of," said Abrams.
As a child, Abrams followed in her mother's footsteps as an athletic, intelligent student. While taking AP classes throughout high school to get herself prepared for college, Abrams has participated in many other sports such as soccer, basketball, tennis and swimming. While she looked up to her mother for golf, Abrams's brother was another big role model in her life with his love for tennis.  Both Abrams's mother and brother inspired her to stick with what she loved most: golf.
Abrams is very confident in her performance during each practice and competition. Fellow students at her school look up to her as a very inspiring team member.
Senior Patrick McDonald, who has played golf with Abrams for 3 years, agrees that she is one of the best on their team.
"I look up most to Kendel Abrams because she gets to play so far ahead of the guys. When she hits the ball it goes so much farther than the rest of us, and she gets such a big advantage. She is definitely inspiring to the rest of the team," said McDonald.
With college coming quickly in the future, Abrams has won many scholarships and awards that have gotten her instantly noticed. Abrams has won the Carson Scholarship award for the past 3 years due to her excelling in academics and in sports. She was able to meet Dr. Ben Carson back in 2010. She has won a couple of grants throughout her high school career and plans on receiving another Carson Scholarship Award within the next school year.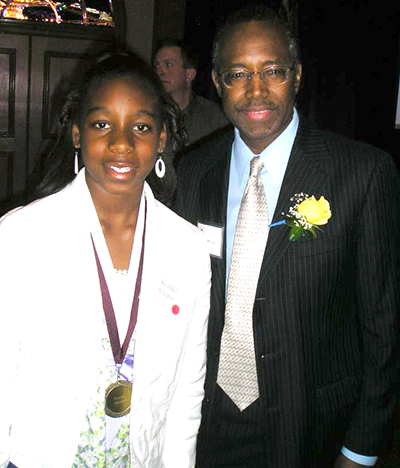 Abrams practices her sport throughout each week, working on the mechanics and fundamentals of it all. She is planning on attending another competition in the upcoming week, hoping to eventually make it to regionals and then to states.
Abrams has been working very hard to keep her title and wants to keep practicing to make sure that she achieves her goals.
"I know my game is strong enough now, that I feel I can definitely shoot lower scores. So [I] just gotta keep at it," said Abrams.
Abrams became an instant attraction to young adults and children by being one of the most known golfers throughout the East side of the United States. Having won many different awards and winning competitions for her amazing golf skills at such a young age is very inspiring to both the older and younger generations.
Abrams gives advice to all generations involved with sports, or even performing arts: practice. There is a certain level that anyone can practice, they just have to be willing to do so. She believes that by practicing and putting time and energy into your talent, you will become more successful and believe in yourself even more. Your confidence in yourself will make you have pride in your work and allow you to reach the dreams that you want to achieve.
Abrams believes that if she can reach her dreams and follow her passions, so can everyone else in the world. They just have to work for it.
"I think confidence definitely goes into practice. So the amount of time you spend practicing basically shows how you perform in games, matches or whatever competition that is at a high level," said Abrams.
In November, Abrams will be competing against 50 North and South Carolina girls in her age division that are the best in their areas in the Myrtle Beach National Shoot Off. Abrams hopes to be able to bring a new set of skills and show off her talent in the competition.
From hard work and dedication, Abrams is ready to show her confidence she has been building up to represent her home state of Pennsylvania.