Song of the Summer 2016
Hang on for a minute...we're trying to find some more stories you might like.
It's almost here. Long days at the beach with your toes in the sand, sipping lemonade while you listen to the waves crash on the shore.
  Summertime is approaching, and we all know what that means. Soon it will be time for a song to play on repeat through June, July and August- the song of the summer.
   This year there have been many songs that certainly haven the potential to take the throne as the new song of the summer. Here are just a few jams that could take this spot:
"Work From Home"- Fifth Harmony featuring Ty Dolla $ign
  Girl group Fifth Harmony's "Work From Home" promotes gender equality. It's not only an empowering song for women, but you also can't help but sing along to the catchy refrain.
   This song is the first single from a girl group to make it into the top 20 since 2009 when the Pussycat Dolls were still around.
"Work"- Rihanna featuring Drake
  This song has already dominated the charts, and it would be no surprise if it continues to stay on top all throughout the summer. Although this song doesn't make all that much sense, some have even said it sounds like she's speaking gibberish, it's extremely catch. What more do you really need from a summer bop?
"Cheap Thrills"- Sia
  Although released during the winter, this song truly has potential to last all through the summer. "Cheap Thrills" is falling in the footsteps of her major hit from last year "Chandelier," and for good reason.
"Be Alright"- Ariana Grande
  Ariana Grande's new album will be released on May 20, 2016, meaning there may be other songs that could take home the title of song of the summer. However, as of right now, "Be Alright" shows the most potential out of all of her singles.
  Featuring a groovy house beat, this song is no doubt catchy. It's one you'll be jamming to with your friends in the car all through summer.
"Hold Up"- Beyoncé
  Let's be real, any song off of Beyoncé's new album 'Lemonade' could easily be the new song of the summer. "Hold Up" certainly fits all the aspects of your typical summer tune, but either way, you know you'll be jamming to Beyoncé anyway.
"No Broken Hearts"- Bebe Rexha featuring Nicki Minaj
  Nicki Minaj had to find her way on this list somehow, right? It seems every summer there's a new song by Nicki Minaj (or in this case featuring her) that's ready to dominate the charts.
  This year is no exception. It's so easy to picture this song playing on the radio's all day and all night this summer. You know you'll be singing along the whole time.
   Regardless of what song will be the song of the summer, summertime needs to hurry up. 

About the Writer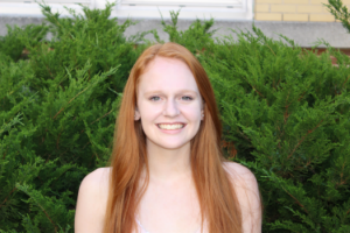 Emily Rivers, Assistant Editor-in-Chief
Senior Emily Rivers has been on the Courier staff for two years. As well as being involved in the school's news website, she is a member of the yearbook production staff, National Honor Society, orchestra and choir. Outside of school, she is an active member of her church, Shrewsbury Assembly of God. She hopes to major in public relations in college and become an event planner.