Warrior Sports Wrap-up: April 25-30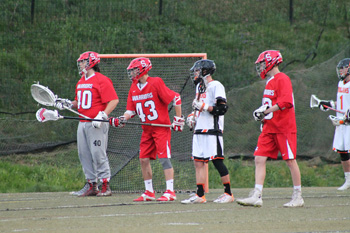 Hang on for a minute...we're trying to find some more stories you might like.
Softball
Starting off the week, softball played away at Central York high school on Monday and unfortunately lost their game 2-7. As the week progressed, the softball team hit another rough patch when they lost their game 4-2 against Spring Grove on Wednesday. The final game was Saturday, but  it was canceled due to rain.The team hopes for a win in their next game on May 2.
Junior player Mackenzie Gibson felt that losing their games this week can not keep them from moving forward.
"On Thursday, we did not come out on top with a win like we wanted to, but I do not think that the score represents how we played. We had a lot of solid hits off their pitcher.Unfortunately,  it was just one of those days where we hit right to them. We have been a strong team and have been successful this season, so I am excited to keep that momentum for the last few games," said Gibson.
Baseball
Beginning the week with a strong lead, baseball won 6-2 against opponent Central York. Baseball continued by playing a tough competitor, Spring Grove, on Wednesday. The team came up short with only 4 home runs against Spring Grove's 6 runs.
Girls Lacrosse
Girls lacrosse has definitely become the team to beat this season with a record of 11-1. Over the past week, there were only smiles as the team added 3 new wins to their record. The team had an outstanding win against York Suburban on Tuesday with a score of 23-1. The team continued their reign with a win of 17-7 against Red Lion. To wrap up the week, the team played Central Dauphin and won but had to fight for the win of 15-8.
Senior Tess Clancy, the goalie for the team, had the perfect view of what was going on from the net.
"At the game we faced a lot of adversity, in the first half we had two players get a yellow card just a few seconds apart. After that, another player was out for the game the whole second half. We had to face a lot, losing a top player, but we overcame the game and won 15-8," said Clancy.
Boys Lacrosse
This week boys lacrosse managed to get by with two wins. The first game was against York Suburban on Tuesday
with a score of 14-13. The team continued with a win against Red Lion with a score 10-9 in overtime. The team walked away this week tied for 1st along with Central and Red Lion.
Track and Field
As the season approaches its final weeks, track and field competed in 2 meets and one invitational. The team proved
themselves at the Dallastown invitational on Friday with Senior Kayla Bennett qualify for finals,  finishing in the top 6. Susquehannock had two who also finished in the top 6.
Junior Danielle Moore was able to watch her fellow runners run their hearts out at the invitational.
"My teammates had a great meet on Friday. They competed really hard even though it was cold and rainy. I am very proud that many took home medals and placed," said Moore.