Photo courtesy Erin Kalizak
  The swim team officially ended their season by going to districts on Friday, March 4 and Saturday, March 5 at Cumberland Valley School District.
  Those who went were chosen by their overall scores. Those in the top sixteen relays or  in the top twenty-four individual swimmers from their entire district were picked to go.
  Sophomore Erin Kalizak is pleased with the outcome from districts.
  "Overall, the team did really well because we had just gotten off of taper, so we were all getting our personal records which is good for each individual in swimming," said Kalizak.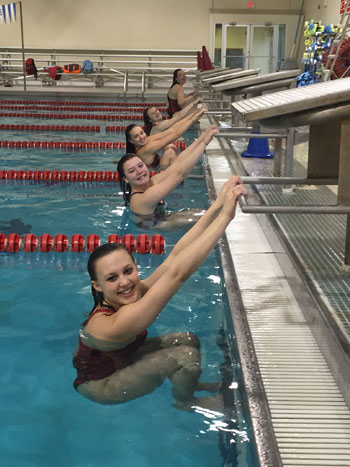 Taper is a technique used in swimming to rebuild a body swimmer's body to help refuel until it is at its peak performance instead of breaking it down and then rebuilding like what happens during practice and swim meets.
  Kalizak went to districts for the 100-meter breaststroke, 400-meter free relay and 200-meter free relay.
  Kalizak reflected on her time at districts by thinking of ways to improve in swimming.
  "I got personal records, so that's a huge thing for me," said Kalizak. "I am definitely excited for next year, and I need to improve by swimming over the summer."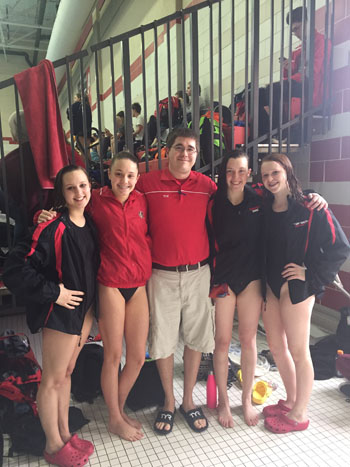 Junior Justin Reed thinks that the team did better than it has in past years at districts.
  "We did pretty good compared to other years," said Reed. "Last year we didn't medal, and we didn't even come close. This year we had multiple people get 9th place."
  Reed was the only one to medal, but this is a big accomplishment because throughout swim coach Brian Wingert's time of coaching, Wingert cannot remember a time that someone medaled at districts.
  Reed placed 6th in the 100-meter fly, which is very close to making it into states.
  Besides Reed, there were multiple other people who stood out to Wingert.
  "Will Mosko had a great swim in the 200 medley relay. They got a best time in the relay, and Will had a huge time drop in that," said Wingert. "Katlyn Baer had a big time drop in her 200 free [relay]. She was just outside of the medal range which is great for a freshman… everybody did well and some people… stood out."
  As a whole, the team placed well compared to their past records at districts.