Students Take Center Stage at District Choir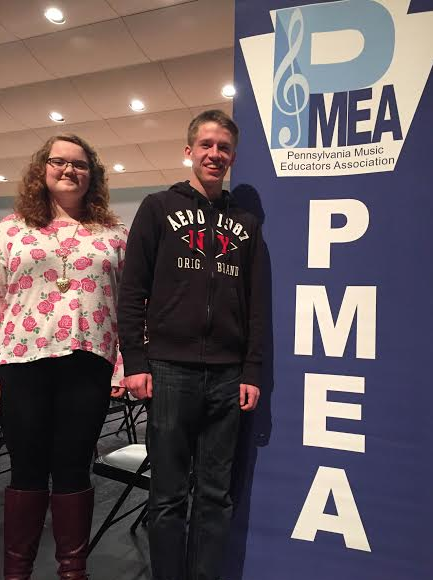 Hang on for a minute...we're trying to find some more stories you might like.
After hours of rehearsal and a lengthy audition process, juniors Julien Sherman and Lina Waterstradt had the opportunity to be featured in the PMEA district 7 choral festival on February 5 and 6.
The students had put in a lot of time and effort to fully prepare for the auditions and the festival itself.
Choir director Jay Althouse explains how he helped the students to prepare.
"I distribute the music to the students and allow them to practice on their own until they feel they are comfortable with all or most of the pieces," said Althouse. "[Then] we spend rehearsal time after school working on developing and re-enforcing musical concepts and proper vocal technique to achieve the most desired sound and musicality possible."
Attending festivals like this is a great opportunity for the students to get to know other dedicated vocalists like themselves and to work with musicians outside of their school.

Junior Lina Waterstradt talks about her favorite parts of the festival.
"I really like the experience of the festival," said Waterstradt. "It's fun to work with other students that care as much as I do about the music."
Participating in district choir gives students the opportunity to learn different types of music that they may not be able to sing in their school's music program.
Junior Julien Sherman really enjoyed the music they got to perform.
"My favorite song was 'The Heart's Reflection' [because of] the message," said Sherman. "It showed how our generation focuses on technology instead of what is happening around us."
Along with new experiences, the festival helps the students to improve their talents.
Choir director Jay Althouse explains the benefits of attending the festival.
"Focus, determination, energy, enthusiasm, working hard, being involved, responsibility, teamwork plus many more, are all positives [of] having students even audition, but then also attend such festivals," said Althouse. "These are all lessons and items needed no matter what career my students will pursue in the future."
Julien and Lina did a great job of representing the school at the district 7 festival. Although neither student advanced to regionals, they both had great auditions and are already working towards the next choir concert in the spring.