Candidates Battle in Primaries and Caucuses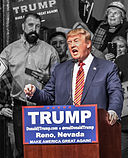 Hang on for a minute...we're trying to find some more stories you might like.
Two primaries and caucuses have passed in Iowa and New Hampshire.
Surprise winners like Cruz took the Republican vote in Iowa, and Democrats Clinton and Sanders have come close in the caucus for Iowa.
New Hampshire came to no surprise with Trump taking the Republican vote, and Sanders taking the Democratic vote.
The next upcoming events will be the February 20 Democratic Nevada Caucus  and the Republican South Carolina primary.
Following that is the Republican Nevada caucus on the 23.
With the primaries going down south, a shift may occur.
Most likely there will be a drop from John Kasich due to his low amount of campaigning in the South.
For the South Carolina primary, the winner will most likely be Donald Trump with Ted Cruz and Marco Rubio coming in second and third places respectively.
The Nevada Caucus should be a bit different though. Trump should win, followed by Carson and Bush coming in second and third.
Before the world riots due the rivalry between top candidates Ted Cruz and Donald Trump not taking number one and two in the polls, let's look at the probability of this debate and the outcome in the South.
Jeb Bush might see a spike in South Carolina from his usual performance because he is from the South.
Bush was born in Texas, and generally Southern natives tend to get the Southern vote.
The reason Kasich did so well in New Hampshire is because he campaigned so much.
Maybe Trump will win again,  or maybe Cruz will steal another victory out from beneath Donald Trump. 
The point is people can predict all they want, but only February 20 and  23 will show the final outcome.