Top 5 Reasons Students Use Pinterest
Hang on for a minute...we're trying to find some more stories you might like.
   The buzz surrounding Pinterest has expanded, and for good reason. It is an app where "pinners" (or users) are able to post or "pin" various images or videos on their own board or someone else's board.  
  Although this app is often used simply to entertain, it can also be used for educational purposes and can benefit students in various ways. Here are the top 5 reasons why students use Pinterest:
1.) Outfits
Although planning outfits may not be all that important in the grand scheme of things, high schoolers tend to care about how they look and how people will perceive them.
  Junior Stephanie Gardecki uses the app to get inspiration for her outfits on a daily basis.
  "I use it all the time. I look at something cute, and I'm like, 'I need to buy that," Gardecki said. "I use it for hairstyles and makeup ideas."
  Whenever students are not sure what to wear the next day for school, they can simply go to the app and get inspiration within minutes.
2.) Food 
  Another common use for the app is for meal inspiration. Hundreds of pinners post their favorite recipes and foods on the website, making it easy for students to have access to different options for their meals.
  Junior Taylor Kopp has made several recipes found on Pinterest.
  "I use it for recipes. I use it to plan my breakfasts and lunches," Kopp said. "It gives me different options for my meals and ideas on how to eat healthier foods."
3.) Workouts  
  In order to live an active and healthy lifestyle, it is recommended that students exercise for at least 150 minutes a week. Using Pinterest for workout plans is a common activity done by students.
  The app has workouts ranging from quick 5 minute workouts to longer and more intense workouts. There are endless options for students who wish to change up their workout plans and stay fit throughout the school year.
4.)  Projects and Studying
   Pinterest can be used to complete projects that are assigned to students and to help them study various topics. The app is full of infographics and pins with links to informative websites that have the potential to assist students with their work.
  Junior Kaila Taylor uses Pinterest in her child care class to plan lessons for the children that attend Susquehannock High School's daycare.
  "Pinterest helps me figure out fun things to do with the kids," Taylor said.
  The app can also be used for studying purposes. Just by searching a topic, hundreds of pins come up, many linking to websites full of useful information. However, make sure that you are only using reputable websites to study from, so you are not absorbing incorrect information.
5.) DIY's and How-To's
  Students also use Pinterest for do-it-yourself and how-to ideas. They can use the app for things like how-to organize your time and DIY face masks.
  At the beginning of the school year, DIY school supplies and how-to decorate your lockers for the new school year were some of the most common searches on Pinterest. Students were able to get inspiration from other pinners on how to great ready for their classes, all while being creative.
  While some people view Pinterest as just another social media app that diverts students' attention away from their school work, it can be extremely helpful and beneficial to students, if used the right way.

About the Writer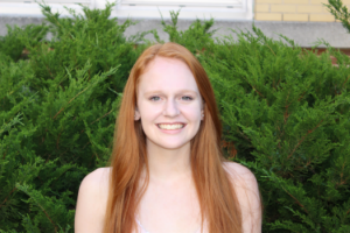 Emily Rivers, Assistant Editor-in-Chief
Senior Emily Rivers has been on the Courier staff for two years. As well as being involved in the school's news website, she is a member of the yearbook production staff, National Honor Society, orchestra and choir. Outside of school, she is an active member of her church, Shrewsbury Assembly of God. She hopes to major in public relations in college and become an event planner.