Top 5 Homecoming Hair Ideas
Hang on for a minute...we're trying to find some more stories you might like.
When most people think of homecoming, they think of the fancy dresses, the football game, and, most importantly, the dance. However, not many immediately think of how they will do their hair, which can be just as important as anything else dealing with homecoming.
How you do your hair at homecoming can make or break your outfit.
Accolades hairdresser Jennifer Garvey recognizes the relationship between a girl's dress and her hair.
"A girl's dress determines a lot about how she should wear her hair," Garvey said. "For example, if she has long hair and chooses a dress that has a pretty back, then [she] will want to wear it up to show the back of the dress. Also, different styles of dresses look better with hair done [a certain way]."
This year there have been a lot of new styles for doing hair for homecoming, as well as some that have been repeated from past years.
"This year seems to have a wide variety of styles varying from straight high ponytails, curly hair left down, and also low braided messy buns," Garvey explained. "Another… look is to pin the hair over to the side and leave the curls down, which is a look we have seen in years past."
If you are worried about how to do your hair for homecoming, don't fret because there are many options. Here are just a few:
1.) Straight High Ponytail
This one is probably the easiest hairstyle, and is for those girls who don't want their hair in their face when they are one the dance floor. To achieve this look, begin by straightening your hair and then brushing it up into a high ponytail, and adding a ponytail holder. Finally, take a piece of hair from the ponytail, and wrap it around the ponytail holder, securing with bobby pins.
2.) Low Braided Messy Bun
This low braided messy bun is another perfect hairstyle for anyone who wants to show off a pretty back on their dress, or keep their hair out of their face. However, unless you set up an appointment with a hair stylist, this one is more difficult than a ponytail, and will probably require practice before the day of homecoming. The first step in doing this hairstyle is to curl your hair. Then, create a deep part on your left side, and begin dutch braiding. Dutch braiding is a reverse French braid, meaning that instead of taking your hair over the middle strand, you go underneath. The best way to learn how to dutch braid would be to search a video on YouTube and follow the instructions given. Once you are finished braiding, take your hair back and put it in a low messy bun, putting in bobby pins to keep it in place.
3.) Curly Hair Pinned to the Side
The next hairstyle is the curly hair and pulled to the side look. This one is low in difficulty because all it consists of is curling your hair, and then pulling it to the side. Finally, you put bobby pins along the nape of your neck to secure the hair to the side.
4.) Curly Hair Left All Down
Another option for hair is to go with the classic all down and curly hair that many girls go for. To achieve this look, simply curl your hair and hairspray it so the curls stay all night.
Junior Stephanie Gardecki will definitely be using this look when she goes to homecoming.
"I got my dress and was like, wait a second, curly hair [and] down would probably look best with the kind of dress I'm [wearing]," Gardecki said. "[My dress] is gold at the top and black at the bottom."
5.) Braided Crown
Junior Destiny Rositzky has noticed a major trend this year for homecoming hair: braids.
"I know braids are really in right now," Rositzky said.
This look is one that incorporates the braid trend. Begin by curling your hair, and then take two medium sized strands of hair from each side, braiding them normally. Then take the strand from the left side, bring it back, and secure it with bobby pins. Finally, do the same thing on the right side, and spray hairspray to help keep everything together.
Homecoming is October 24, so make sure to try out one of these so you can walk in with style.

About the Writer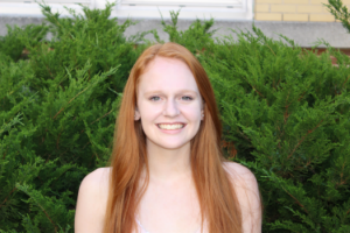 Emily Rivers, Assistant Editor-in-Chief
Senior Emily Rivers has been on the Courier staff for two years. As well as being involved in the school's news website, she is a member of the yearbook production staff, National Honor Society, orchestra and choir. Outside of school, she is an active member of her church, Shrewsbury Assembly of God. She hopes to major in public relations in college and become an event planner.