Girls Volleyball Dominates the Competition
The varsity girl's volleyball team won against York High.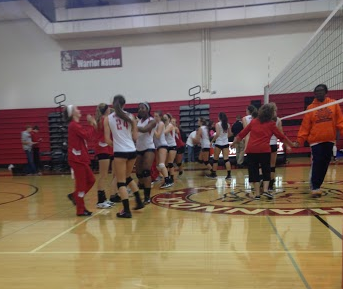 Hang on for a minute...we're trying to find some more stories you might like.
The girls varsity volleyball team won their game on October 1 against York High 3-0.
Sophomore Amber Bortner thinks her team was very prepared.
"York High does not have the same amount of practice time that we get," said Bortner. "We have really good coaches and a lot of the girls on our team are also on club teams."
Although the crowd was little smaller than usual, the fans were still very energetic. After every score there was always a cheer noticed by Junior Abby Deter.
"There weren't a ton of people there because there were a few other sports that had home games at the same time," said Deter. "It was mostly just families, but they still made noise whenever we scored."
The Susquehannock team is very strong this year since they have not lost a game in their division yet this season. As the game went on, it was easy to see the frustration expressed by the other team, although there were no outrageous plays or ejections. Overall, it was a fair game for both teams.
Towards the end of the last set, junior Tyler Williams made a great save by sliding across the floor to save the ball. The ball went into a very long volley between the two teams after her save, and it ended up being a point for Susquehannock which caused the fans to go wild.
Susquehannock is working really hard to have a great season, which has proved to be working so far.